Special Occasion Car Ribbons
Event car ribbons. We can supply car ribbons for most special occasions if required. Any special birthday or wedding anniversary for example. Our luxury prom car hire has ribbons and flags as standard.
So these can include an image of a lady and gentleman on the ribbon or just a lady or gentleman. These images are also the same as those found on our event car flags.
Our vehicle Ribbons are made to work with any event theme. Hence with the designs looking great with any theme be it modern, classic, traditional, vintage etc.
All our luxury chauffeured vehicles can be supplied with occasion ribbons. Available in white with gold writing or gold with white writing.
Personalise Your Ribbons
Are different colours available for event ribbons? Of course they are! We understand that each event or occasion has its own unique style and aesthetic. So we are happy to provide ribbons in a variety of colour options.
So whenever possible – we try to match your desired colour and will recommend what colour works best for the writing.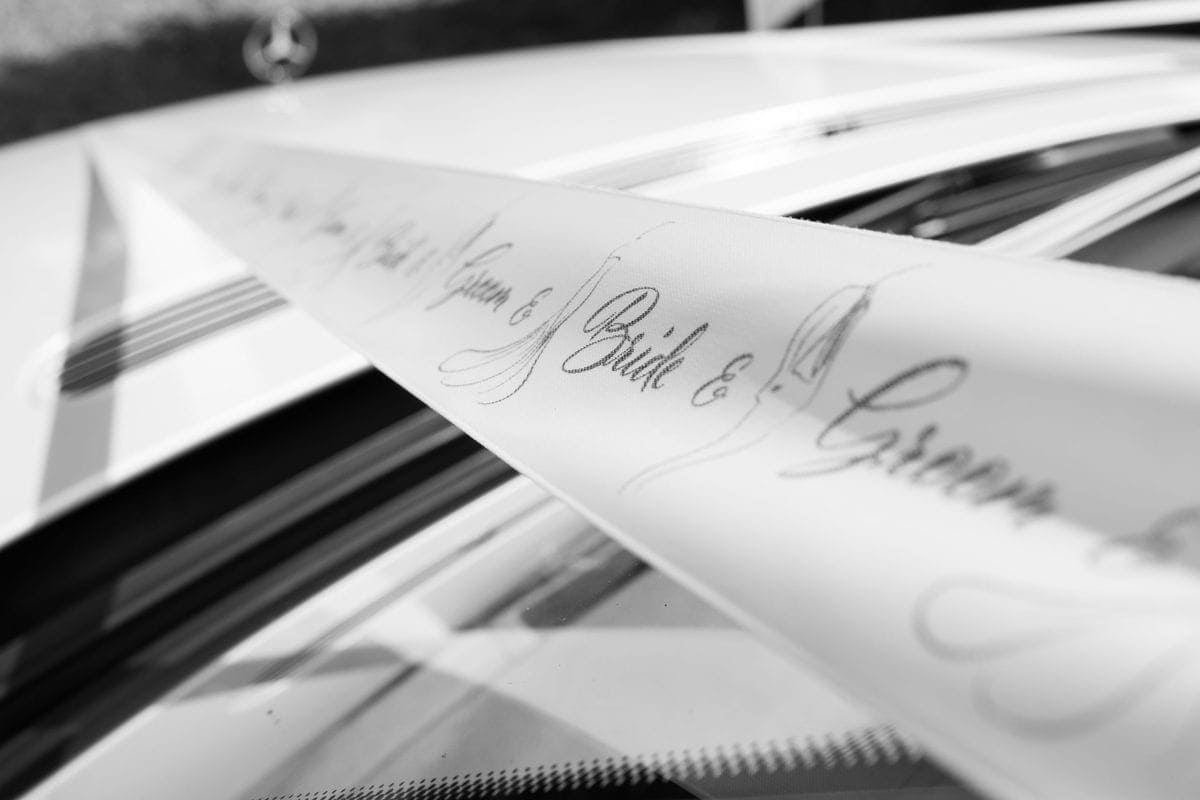 Also, you can personalise other aspects of the vehicles car ribbon. Hence, such as adding the name or names of the person, plus the event. Also the date of the occasion, with a range of colour options available. Any personalised ribbons are given to you at the end of the event, a fantastic souvenir of your special day!
All our car ribbons are made from premium silk and are specially designed for WGSC. We find silk is the best choice not just for its luxury aesthetic. But also because it is much more friendly to our vehicles. More softer and durable than other materials, such as nylon.
Unfortunately, silk is not water proof so they may get wet if it is raining. Don't worry though if you have personalised your ribbons. We will take these off and dry them. Then either drop them off or post them to you.
Decorating Your Car For The Occasion
We can decorate your chauffeured car to give it a personalised touch. This not only looks great but also provides the perfect backdrop for photographs. Here's how you can personalise the décor on your luxury chauffeur driven car transport:
Choose your preferred ribbon colour
Add your own personal details to the ribbons.
Match your car flags with your ribbons.
Keep your personalised ribbons as a souvenir of the occasion.
Also check out your other options in chauffeurs attire and the finest champagne choices.
NOTE: Please choose ribbons and personalisation on our instant booking system. As this allows us to streamline the process. Ensuring your luxury car meets all your needs well in advance of the big day. All details are attached to your chauffeur car hire order.
Of course, we understand that you may change your mind regarding this! So, if you wish to personalise your event car décor.
Please provide us with a minimum of 28 days' notice. So this gives us enough time to ensure all requests can be met.
Personalisation of car flags and ribbons is available for any event or occasion to require it for.
Car ribbons for events