Event car flags for any purpose or occasion
At White Glove Chauffeur Service, we can provide car flags for any of the special occasions in your life. From birthdays to anniversaries, you can add flags to all our chauffeur driven vehicles to enhance the event or occasion. Regardless of the event, we can come up with quality, stylish, and bespoke flags!
Why do some luxury vehicles have flags on them? History indicates that adorning a vehicle with flags was the ideal way to distinguish important service vehicles around the globe, perhaps most notably on Presidential and Royal vehicles. Flags help symbolise that a very important individual, whether political, Royal, or otherwise, is a passenger on board or the vehicle is in service to them.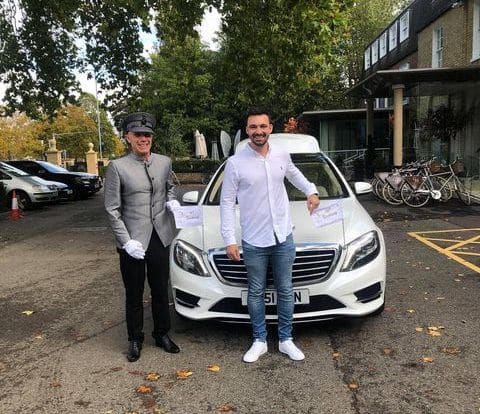 An example being, some vehicles in service to the White House often carry multiple flags, especially during international trips or visits from foreign dignitaries. The limousine displays one of the USA and the flag of the visiting nation(s). This serves to honour the relationship between each country.
We wanted to offer the same with your big events. To elevate the importance of the occasion whilst in our vip services.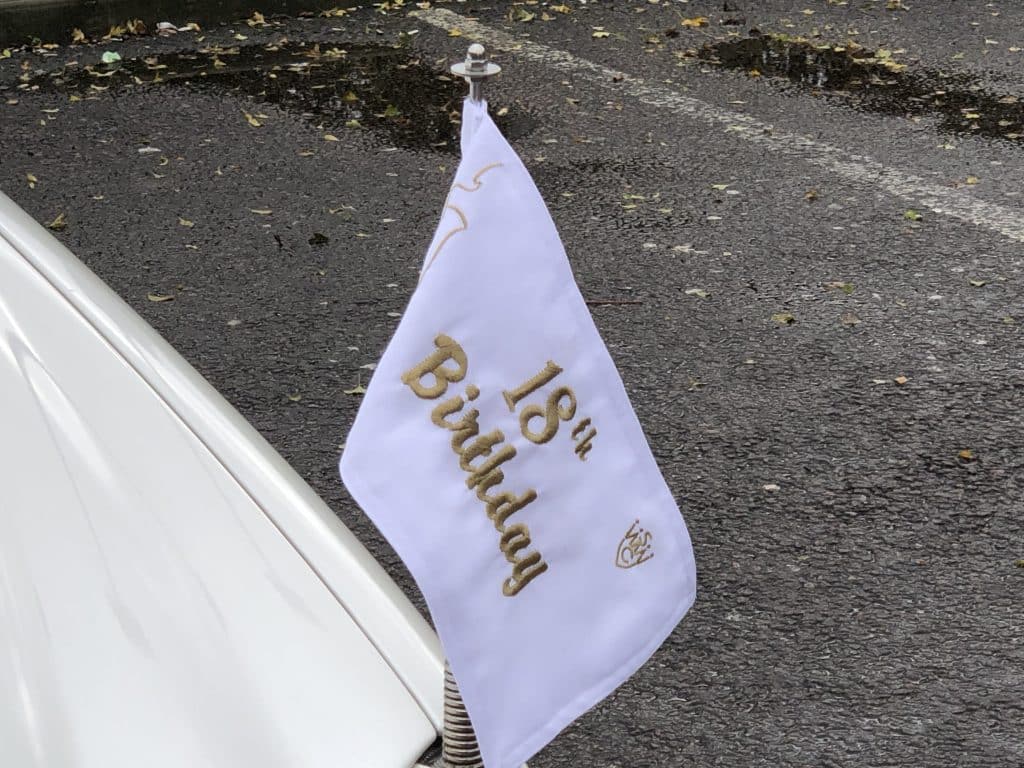 While you might not be a political leader or a diplomatic envoy, you might wish to include the same pomp and ceremony to your own event. And we will be more than happy to help you do just that!
Designing our flags
As a company, from the moment we envisaged our luxury service, we felt that car flags were a must. We believed this added attention to detail would complete our white glove service. After all, we wanted our passengers to feel like a VIPs. And what better way to make sure that was the case?
Of course, a car flag is the final part of this, as the vehicle and service itself must exude elegance and sophistication. Also, the finest attention and care to detail is needed to ensure a first class service. Thus, all of our flags and other service items are given that extra care during development to ensure longevity.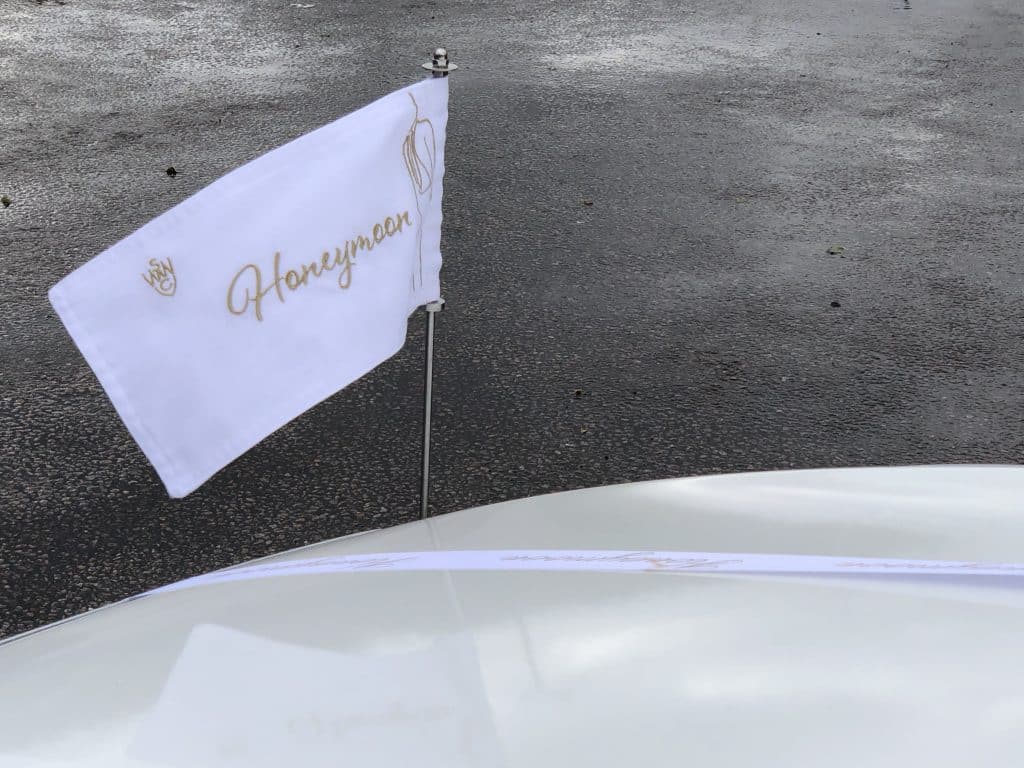 Flags designed to match the highest standards
Safety is paramount to our chauffeur services, so when implementing our car flags we left no stone unturned. To do so, we spoke extensively with authorities regarding key aspects such as health and safety. After this, we designed the holders for the flags.
Then, we presented our design to a metal fabricator. After several attempts and a few design tweets, we had our fabricated bespoke bracket. We knew it would provide our vehicles with that regal, opulent charm that would make all the difference.
We have chosen a simple yet effective design; a custom bracket is securely bolted to the vehicles body work. This stands out, protruding from under the bonnet while holding a flag pole in place.
The pole connects to a heavy duty spring that is attached to the custom bracket. Consequently, the spring core is the main component of the safety design. So, this helps to ensure that the flag and pole fold away in the event of a collision.
We also had to make sure that the flag designs were safe for the chauffeur and did not intrude on their vision. This involved developing the flags that were correct shape and size, which again we achieved so they do not impair the chauffeur's vision. This helps you to look great without compromising anything or risking safety.
Once we were sure that we had the safest design for our event flags, it was time to have them inspected by the local licencing authority. We are delighted to have passed as safe vehicles with flags attached!
Our dream is now a reality!
Customise Your Car with Flags
We are the only chauffeur car company in the UK that provides such specific and bespoke event flags. As we want our finest chauffeur driven cars to look and feel extra special for your special events and occasions in life, we have gone the extra mile in our designs.
Our vehicles feel even more regal when combined with the white glove chauffeur experience. Which also you can add your own personal touch to your big day!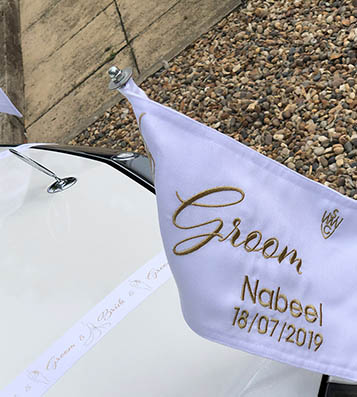 Colour options available include:
Gold with embroiled white writing plus images of a gentleman and Lady
White with embroiled gold writing plus images of a Lady and gentleman
You can also customise the colours of the ribbons paired with your flags!
That's not all, as there are other ways to customise your event flags including
Names of the person or persons
Date of the event or occasion
Custom colours
Plus, at the end of the day you get to keep your personalised car flags! At the end of the day your chauffeur will present these to you. The flags being a great memento of your special occasion or event.
Of course, given how reliable the UK weather is, the car flags may get a bit wet. So, if this happens, we will happily wash and dry them before posting them or dropping them off. You can let us know what option would be more suitable for you.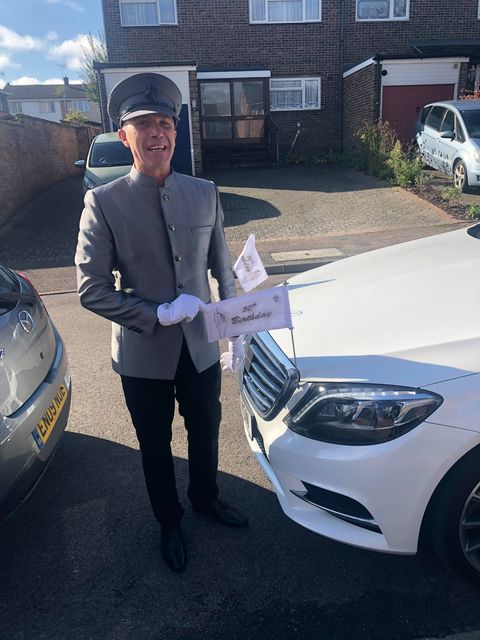 Decorating Your chauffeured Car at WGSC
Personalising your car with décor is easy for your theme. Just let us know the occasion and what details you require on your bespoke flags. Then we will have them made for you.
This makes the vehicle a fantastic backdrop for many photo ops. So be sure to consider this if you want to customise your luxury car transport.
Here's how to add the personal touch that matches your theme:
1.              Choose your preferred flag colour based on the colour options that we can provide you with.
2.              Add your own personal details to the flags. EG. 18th birthday, 50th wedding anniversary for example – the choice is yours entirely.
3.            You can also have matching ribbons. Simply let us know if you would like to include this as part of your package.
4.              Keep your personalised flag as a souvenir of your event; a memento of the good time had by all during the event.
Also, be sure to check out your other options in chauffeurs' attire and the finest champagne choices. We look to handle everything for you, so don't hesitate to let us know what you are looking for and we can adapt to suit your needs.
Adding your options
NOTE: Please choose flag personalisation on our instant booking system. As it allows us to streamline the process and ensure your chauffeur car hire meets all your needs well in advance of the big day.
Of course, we understand that you may change your mind regarding this. That is totally fine, but we do need some notice. So, if you wish to personalise your car décor.
Please provide us with a minimum of 28 days' notice. So this gives us enough time to ensure all requests can be met.
Personalisation of car flags and ribbons is available for any special occasion or event. Regardless of how unique or specific the event, let us know and we can plan everything around your needs!
Luxury car flags