Choosing Our Chauffeur uniform
Supplying the finest luxurious chauffeur driven transport we feel should not just be about the Car. A first class service is about the attention to detail and the care it takes to deliver it. So, it deserves and demands the best attention to detail, to features, and to facts. And at WGCS, we make sure this is the case with every project we undertake.
So, we know our chauffeur uniforms were of paramount importance to our service. A standout service would need a stand out uniform, reflecting the attention to detail, style and the finesse service we deliver. We want you to know who we are when you see us, giving you instant peace of mind and comfort.
To us, this meant that simply buying suits off the shelf and calling them uniforms was just not an option. After all, what we wear helps to compliment the overall white glove chauffeur service. Therefore, it's an important attention to detail that we do not overlook. That's why we took everything, including our choice of uniforms, seriously.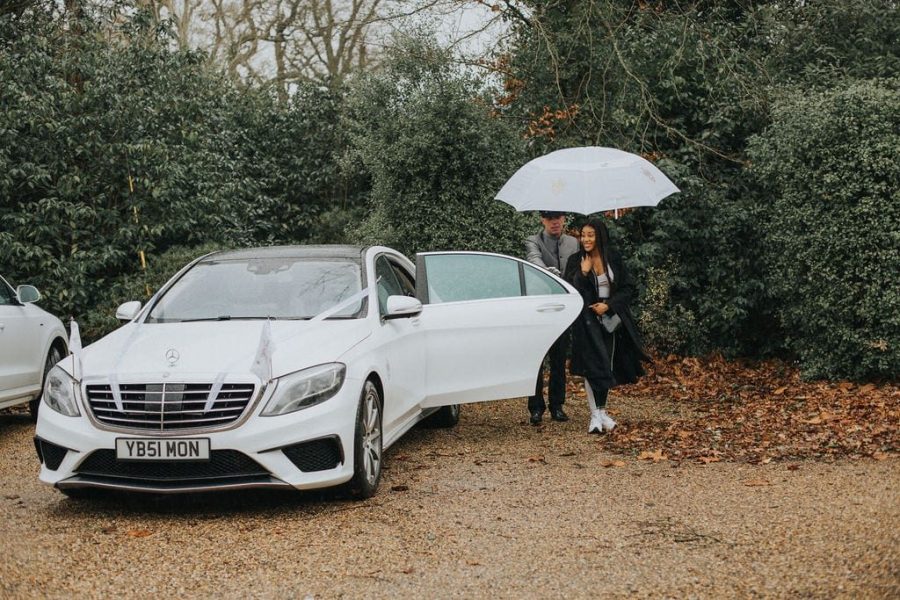 luxurious chauffeur driven transport
We desired that our service would be among the highlights of your special day. Although we have a world class leading prestigious product, we wanted to make sure that our service could meet the most elite of standards. So, we needed the right appearance and the right range of options to fit all luxury travel themes.
We spent a few weeks viewing chauffeur uniforms from the past and present eras. We also had to consider how our chauffeurs' work. So, for example, we set a clear plan of action for how the vehicles would be prepared prior to their arrival.
After cleaning and perfecting the vehicle, your chauffer will then put their jacket on. At that point, the jacket then stays on until the chauffeur car hire ends.
It is for this reason we decided on collarless jackets, enabling our team to wear a company t shirt underneath. So now we had our general styles and comfort sorted; we still felt like we needed something bespoke to each driver, though.
We designed and had our chauffeur's uniforms tailor-made for each chauffeur. This made sure that our uniforms would perfectly fit each chauffeur; another fine detail to meet the high standards we demanded for our customers and their first class travel.
After all how could we possibly offer a first class service. Without our drivers' appearance meeting the highest standards of our clients?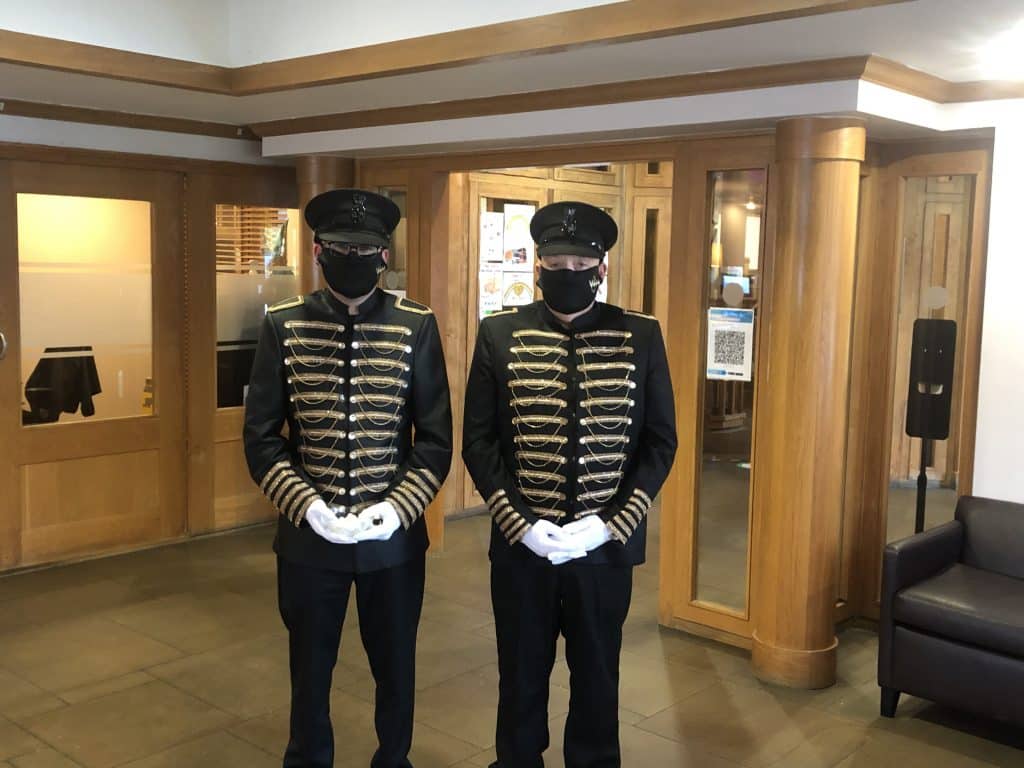 Luxury chauffeur driving services with a clear attention to detail
So, our goal is to provide a service that is one of the many highlights of an unforgettable day. To do so, we understood that our appearance would play an important role in this.
With that in mind, we have a range of luxury chauffeur limos at your disposal. So, it is only right that our own appearances match that of the limousine!
Of course, we also know that every event is different. So, with that in mind, we don't just have one uniform style; we provide a range of chauffeur uniforms.
This is to help you find one that matches your event theme.
In fact, we care so much about the appearance of our chauffeurs that we also made sure all our shoes and chauffeur hats are the same.
Indeed, even our white gloves are remade with our logo embroidered on them!
Understanding the attention to detail required to deliver our luxury chauffeur driven car hire service is something we took very seriously. To do so, then, we have developed a meticulous process for how our drivers prepare themselves and the vehicle.
For example, upon arrival they start by cleaning and hoovering the car again. This helps to ensure it is spotless for your big day. We repeat this at every opportunity during the chauffeur car hire.
Choosing Your Chauffeur Uniform
There are five different chauffeur uniforms available. This should make it easier to find the one that best matches your theme. This means that we have numerous styles, ranging from classic to modern.
This includes our standard uniform, which is available in either grey or black. This resembles the classic chauffeur aesthetic most are familiar with. Should you want them to exude even more luxury, though, you can choose to upgrade your professional chauffeurs' uniform with a further four options available in this collection.
All uniforms are bespoke and made to measure to ensure the perfect fit. You can read about all five uniforms below.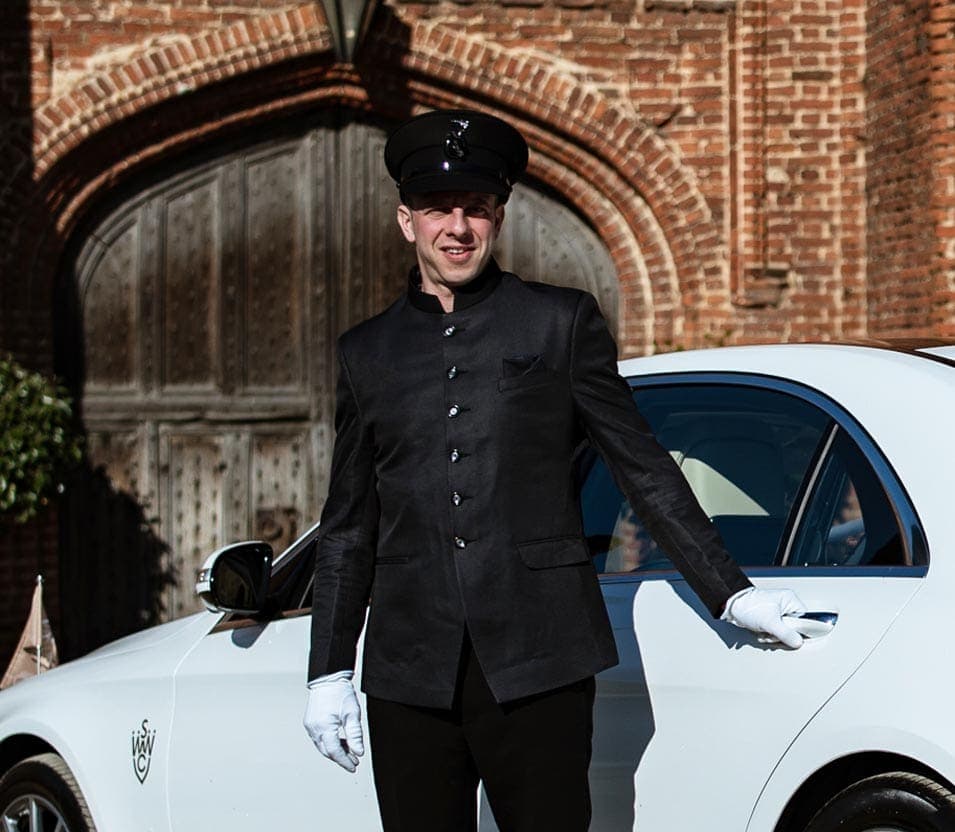 Standard Black or Grey chauffeur uniform
Standard black or grey chauffeurs' attire. The black version has a slight silver fleck in the material. The charcoal grey is more a matt black colour. Both come with matching trousers and the choice of a grey or black chauffeurs' hat. As standard, this will come with black shoes and white gloves.
These modern stylish jackets are a design intended to fit in with any event theme. Whether you are travelling to the airport or having a fine dining experience, this will look suited to the event.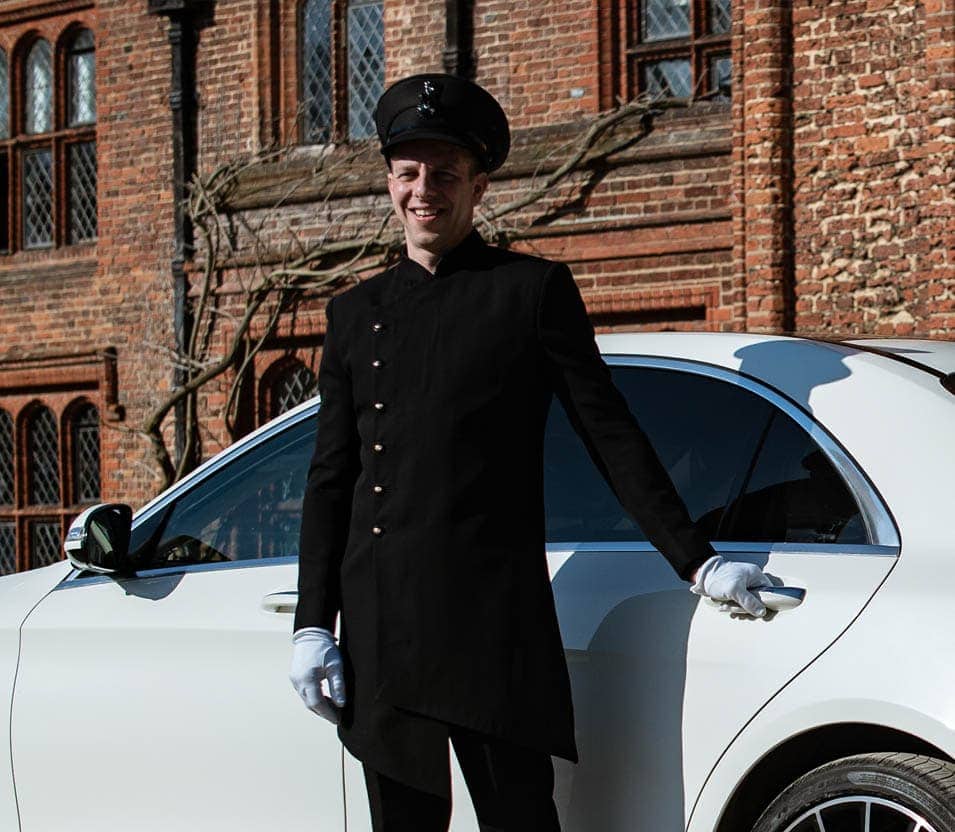 Classic long suit
A stylish long jacket with buttons set to the side. This really is our favourite chauffeurs' uniform. A very unique look from an old era mixed, though improved and updated with a modern look. This uniform is never out of place on any occasion or event, and always attracts compliments.
As standard is worn with black trousers and shoes. Also, a black chauffeur's hat and white gloves are included to complete the look.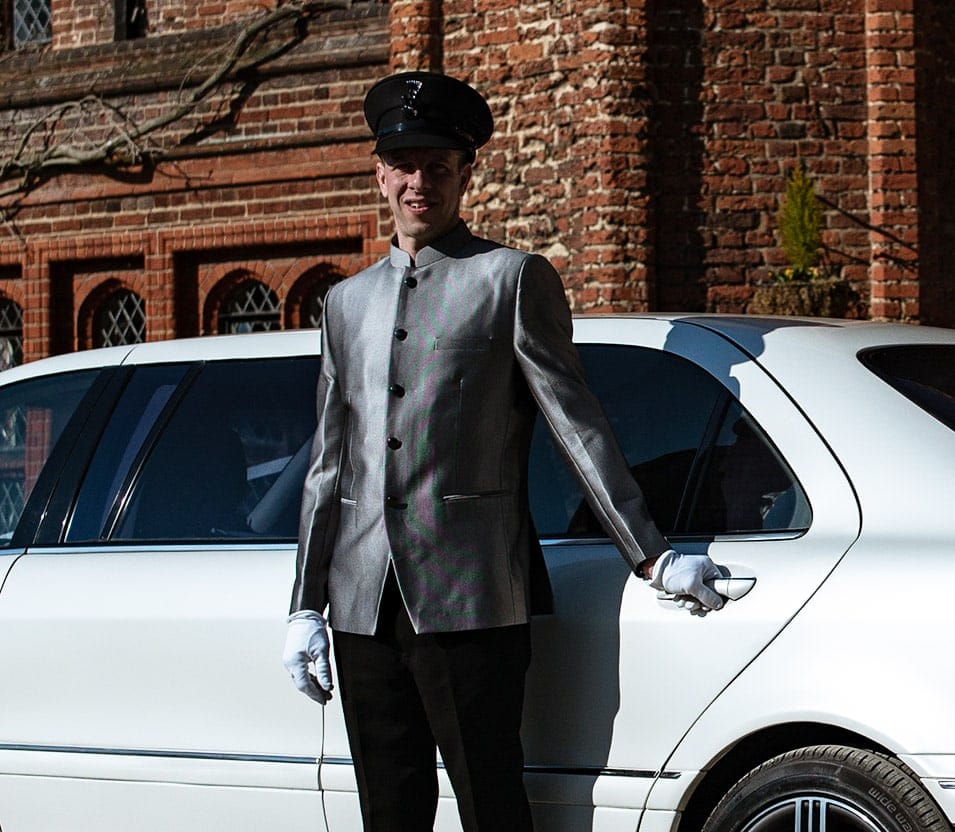 Modern Suit
A smart modern looking, silvery grey jacket with a black fleck. This really does look stunning and can be worn with either a black or grey chauffeurs' hat. It looks great, and really makes that positive impression shine through.
This chauffeur's uniform is worn with black trouser and shoes as standard. White gloves again complete the sophisticated image to enhance your theme.
Regal suit
A very distinguished looking chauffeurs' suit. The regal look ideally will fit in with all themes. Dark grey in colour with detailing around the collar. A really stylish look, and one that you should be comfortable using for any kind of formal event where you want that extra level of class and grandeur.
A classy, all-purpose choice that stands out with total simplicity.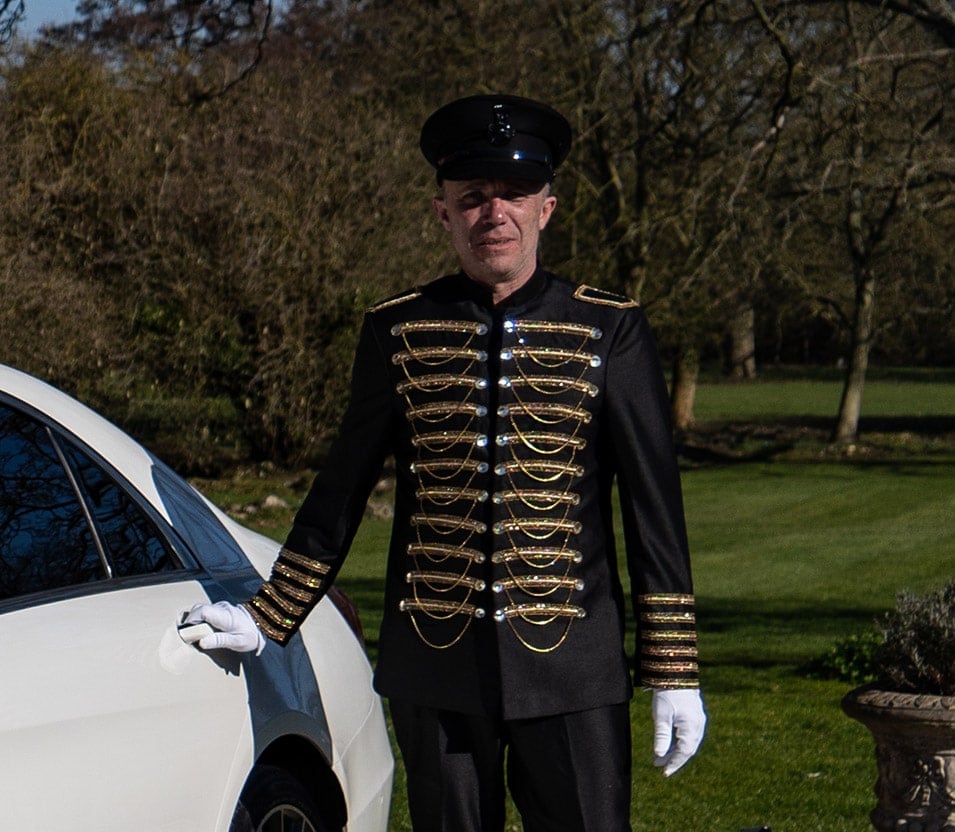 Napoleon Suit
This stunning jacket really does add the bling factor, should this be what you are in need of a military background for attending the finest events. In our finest dress uniform, we make sure our staff do your proud as they bring you to and from the event you have in mind.
Black in colour with gold colour chains and detailing. Whatever the theme of your event or occasion, this is a head turner and talking point for sure.
Always very popular for photo requests.
Again, this chauffeur uniform is worn with black trousers and shoes. White gloves together with a black hat complete the look.

Need something bespoke?

Of course, you might have some ideas in your mind that you would like to take further. If you are looking for something bespoke, we can and have adapted our chauffeur's uniforms on request to match your theme even further. So please don't be afraid to ask if you have an ideal for your event theme!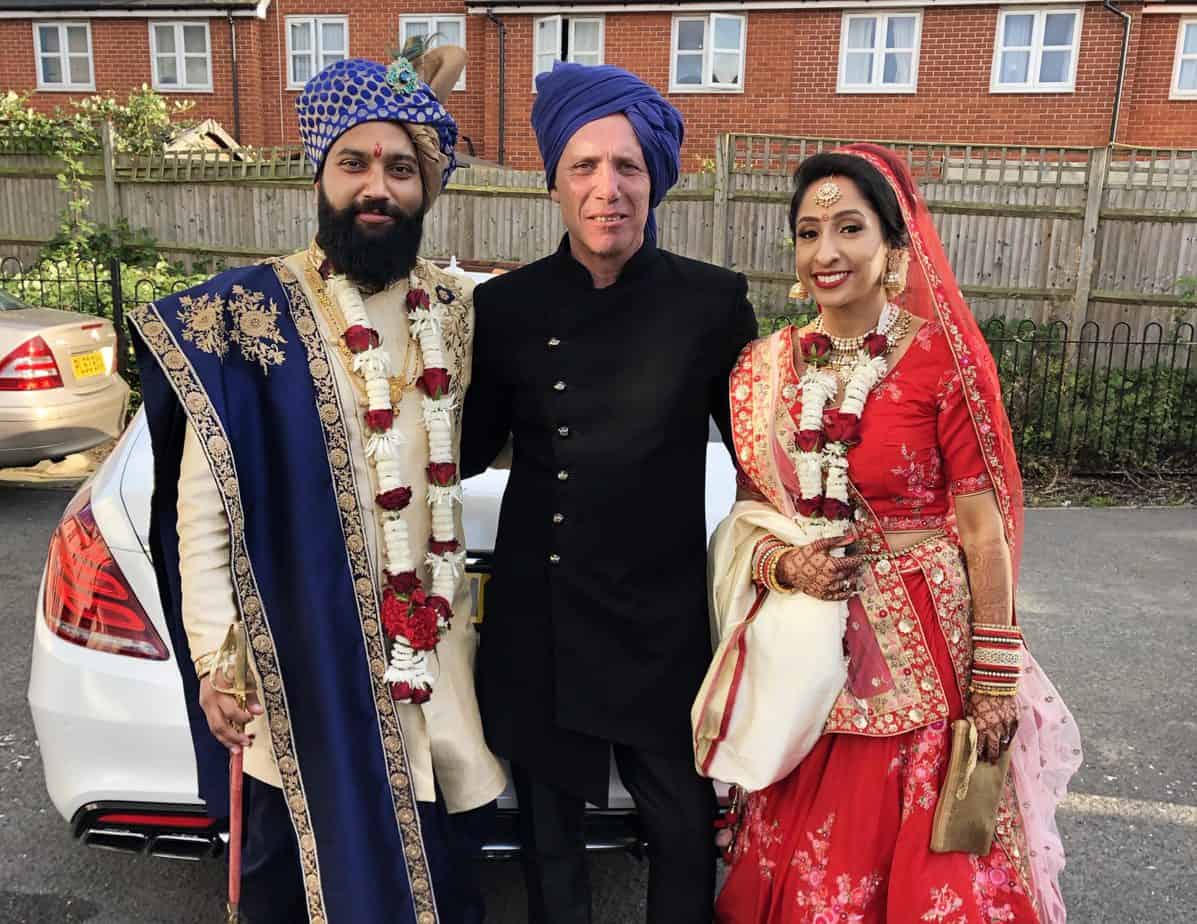 Bespoke chauffeur uniforms