Luxury Stansted Airport Transfer
Looking for the finest most luxurious Stansted airport transfer from Essex and Suffolk. Whether you are going on holiday or a business trip, why not arrive at Stansted in the ultimate style, class and comfort. Nobody does first class airport transfers like white glove chauffeur service.
Our prices start from £125, including free branded champagne to start your journey in true style. Also with the options to upgrade your champagne to enjoy on the way to Stansted. We offer a door to door service, transporting you in luxurious leather seating. All our vehicles include free mints, chilled water and cooling towels as standard.
A white glove chauffeur will pick you up from either your home or the airport. As standard carrying your luggage to the car and then escorting you to the chauffeur vehicle, if it's raining under the shelter of an umbrella.
Start your luxurious holiday in style, arrive at London Stansted airport in first class. Add a bottle of Moet for £30 and enjoy a massage in the seat as you plan your holiday activities, whilst enjoying your champagne. Knowing your well deserved holiday has well and truly began.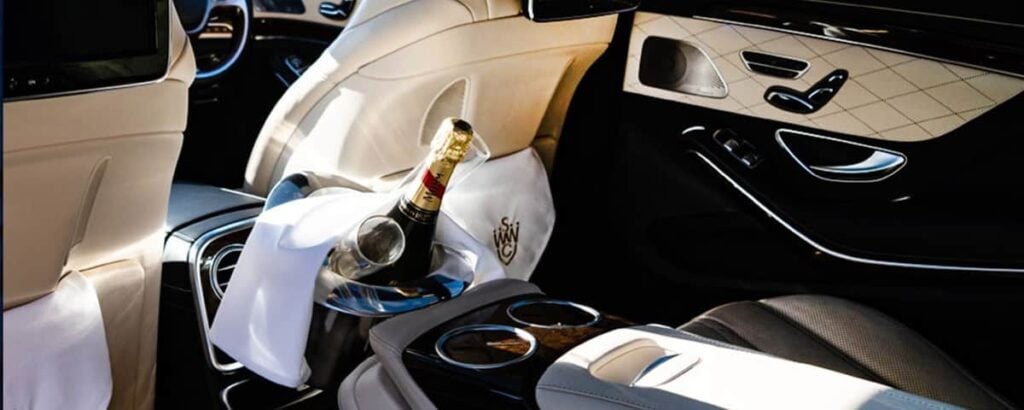 Transfers to Stansted Airport
With our Stansted transfer to the airport, we offer 2 main choices. We can either set you down outside the terminal, this is our standard service which is time restricted by Stansted airport.
Alternatively we can park in the short stay car park, then take you and your luggage into the airport and your check in desk. Either way your chauffeur will be there to look after your well being and aid you with your bags.
Transfers from Stansted Airport
We again offer 2 choices for our Stansted transfers from the airport.
First option you can ring us when you are 10 minutes away from exiting the airport. This is normally once you have collected your luggage for example. Then we will pick you up from outside the terminal in an agreed zone, this again is our standard service.
Second option is our meet and greet, your chauffeur will meet you inside the airport. So as you exit the arrivals, you will see them holding a board with your name on.
They will then offer you cooling towels, that are most welcoming after a long flight. Now they will take charge of your luggage and escort you to the chauffeur vehicle.
With both options, they will then seat you in the car and then secure your luggage in the boot. They will now offer you cooling towels again and chilled water. Also of course champagne should you have ordered it.
Finally they will show you all the vehicles features for needed for your comfort, relaxation and entertainment. The journey to your destination will now start, once arriving at your destination, they will escort you to the entrance and then fetch your luggage to the door.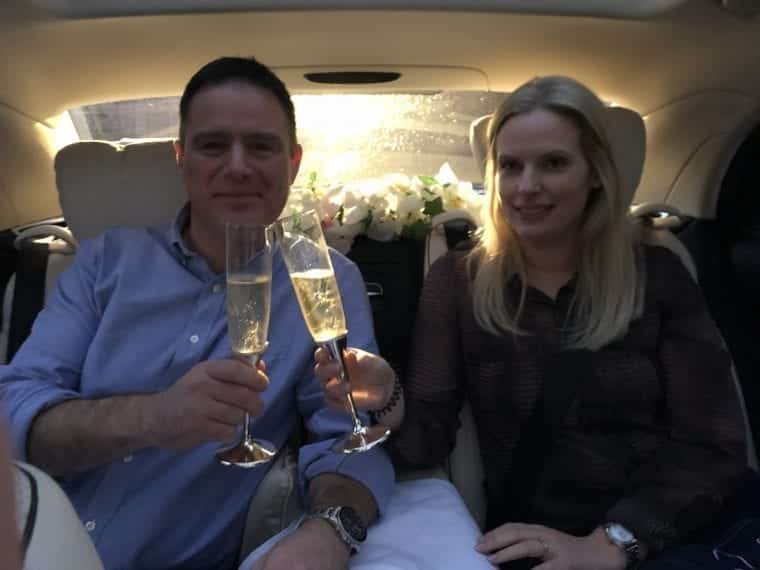 Instant quote and booking system
Obtaining an instant quote for your Stansted airport transfer is easy. Just click instant quote on the side one the page and select Stansted airport. Our set prices start from £125, which covers the Essex towns of Colchester, Chelmsford, Braintree and the Suffolk towns of Sudbury, Bury st. Edmunds and Haverhill for example.
Just enter the date and time you require picking up, then enter your full post code as the pick up point. If you have more that 1 pick up point, use waypoint to add another. Then finally enter Stansted airport as your destination.
The system will now show you an instant quote for your transfer to the airport or transfer from the airport and the available vehicles.
To instantly book your Stansted airport transfer just click continue to booking and book. Don't forget to add any extras you desire for your finest chauffeur driven airport transfer.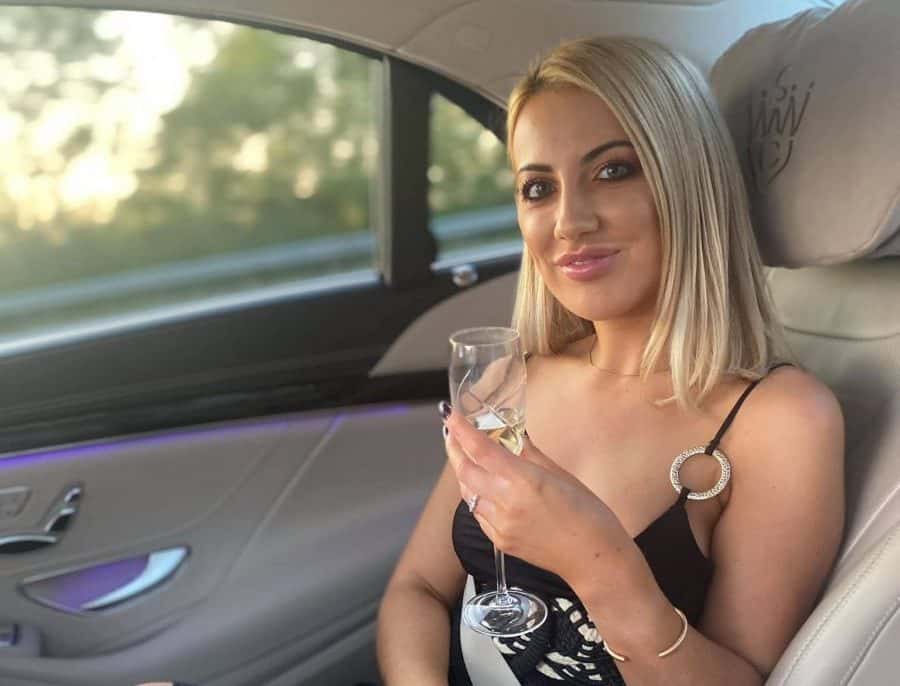 Luxury cars and options
We offer a range of the finest cars and options for your Stansted airport transfer. Three Mercedes S class vehicles await to serve you a first class transfer to the airport or from the airport, arriving like a VIP with our white glove chauffeur service.
We have three Mercedes S class Limos which can carry up to three passengers and 3 cases. Both vehicles provide the perfect comfortable journey on their air suspension in the finest nappa leather seating. Each vehicle has privacy blinds, panoramic sunroof, climate control and heated seats. Both vehicles are the Long wheel base limo version, providing the extra space in the rear cabin for perfect Stansted airport transfer.
The Mercedes S350L exe & S500L takes your comfort and well being to an extreme level of first class comfort. Providing massaging seats, your own luxury climate control, heated and cooled seating, plus media screens which you can watch TV or a DVD on.
Enhancing your total comfort even further, the S500L has the fantastic Magic Body Control. This vehicle reads the roads surface ahead and adjusts its air suspension to the conditions. Almost eliminating the feel of any bumps on the roads surface.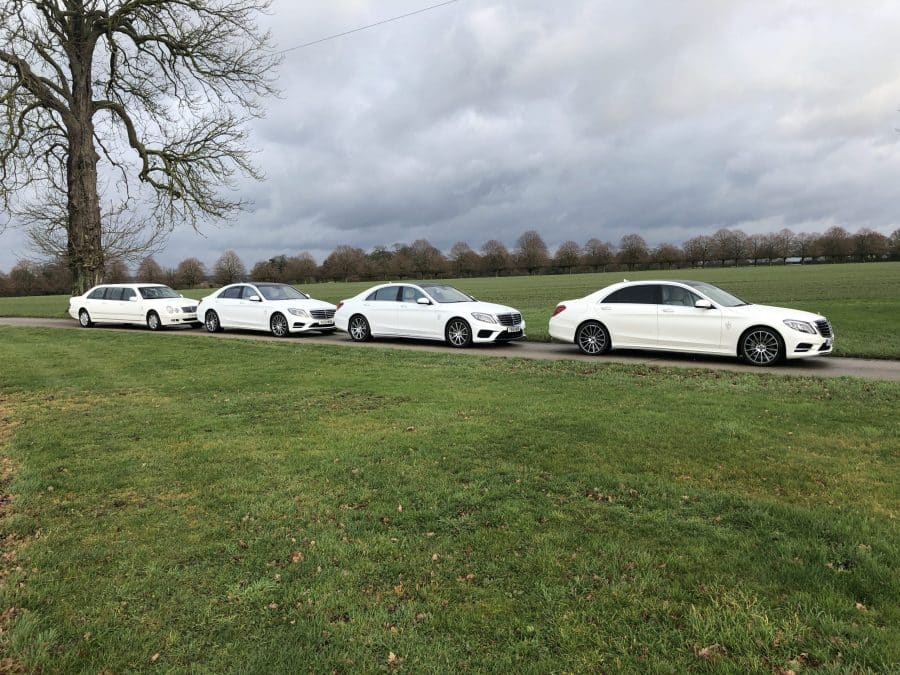 Luxury Limousines and Limo buses
The Mercedes Pullman is the royal treatment, used by VIPs all around the world this grand vehicle just turns heads. If you require the champagne package, then just vehicle can only really carry 4 passengers with 4 cases.
With heated leather seating, your own climate control and music system your journey will whizz by. A glass divider can be used to separate you from the chauffeur, however don't worry you can use the intercom to communicate with them.
The Pullman is quite popular for airport transfers for Hen and Stag parties for which it can carry 6 passengers and small cases. The perfect way to arrive at the airport for the beginning of your party. We can also adore the car with hen or stag party flags and ribbons if needed.
The Mercedes VIP Sprinter minibus provides luxury transport for up to 8 passengers. Being a VIP minibus this has an array of amenities for your ultimate comfort and luxurious travel.
An onboard fridge, coffee machine and 7 reclining leather seats. Also your own media system for the entertainment, whilst you sit back and enjoy the journey.
Climate control and mood lighting further enhance the experience. Eight bespoke champagne flutes await to serve you. So whether you would like to party with friends or just relax with family, this vehicle delivers it all and more.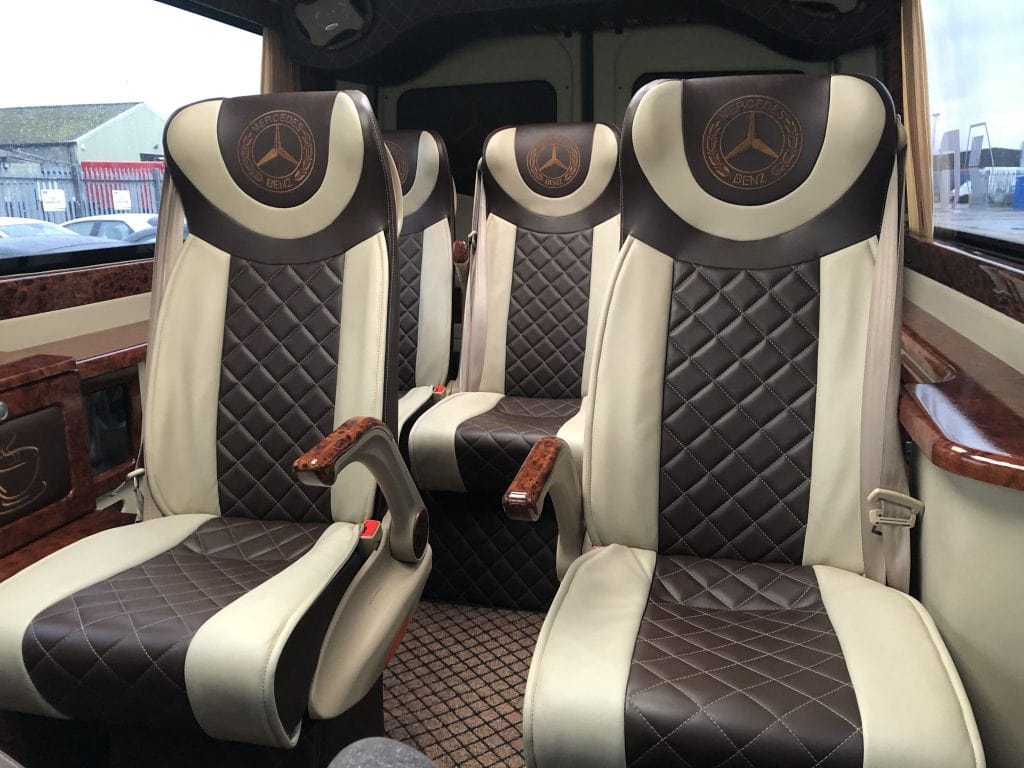 The finest Extras for your Airport Transfer
We offer an array of optional extras for your Stansted airport transfer. Champagne, a choice of top branded champagnes are available to enjoy for your journey, please visit our champagne cellar for more details.
Meet and greet in the airport and escort thorough the airport. We can even supply flowers and soft drink packages.
In fact we can bespoke our service to meet any travelling needs you have, please feel free to contact us with your requirements.
We supply first class travel to all London Airports. So why not treat yourselves to a true first class experience and upgrade from your standard London Stansted airport taxi.
Airport transfer Stansted