Hire a VIP mini coach or minbus
Hiring the finest VIP mini coach and minibus transportation in Essex and Suffolk. This is not luxury travel or even executive transport in a mini coach or bus. This is the ultimate VIP experience for your events in life. We create memories that will last a lifetime. Whatever the event or occasion our fleet of Luxury mini coaches and buses will be designed for your needs.
Bespokely designed by us to fulfil all your transport needs, with one common factor. Providing the most luxurious VIP mini coach experience. Each luxury vehicle can be adapted to suit the occasion. So whether you are looking for a corporate hire to an event. A party night out in London to reward your employees or to celebrate a special occasion, we will meet your needs.
We will adapt the vehicle or hire to suit your requirements. Whether that is lighting, music, TV, or drinks, we will bespoke our services to your needs. Thus providing the perfect tailored journey for your requirements. Where Prosecco and Champagne welcomes come as standard on all our hires. However once again we will bespoke this to your needs, if you do not like Champagne or Prosecco.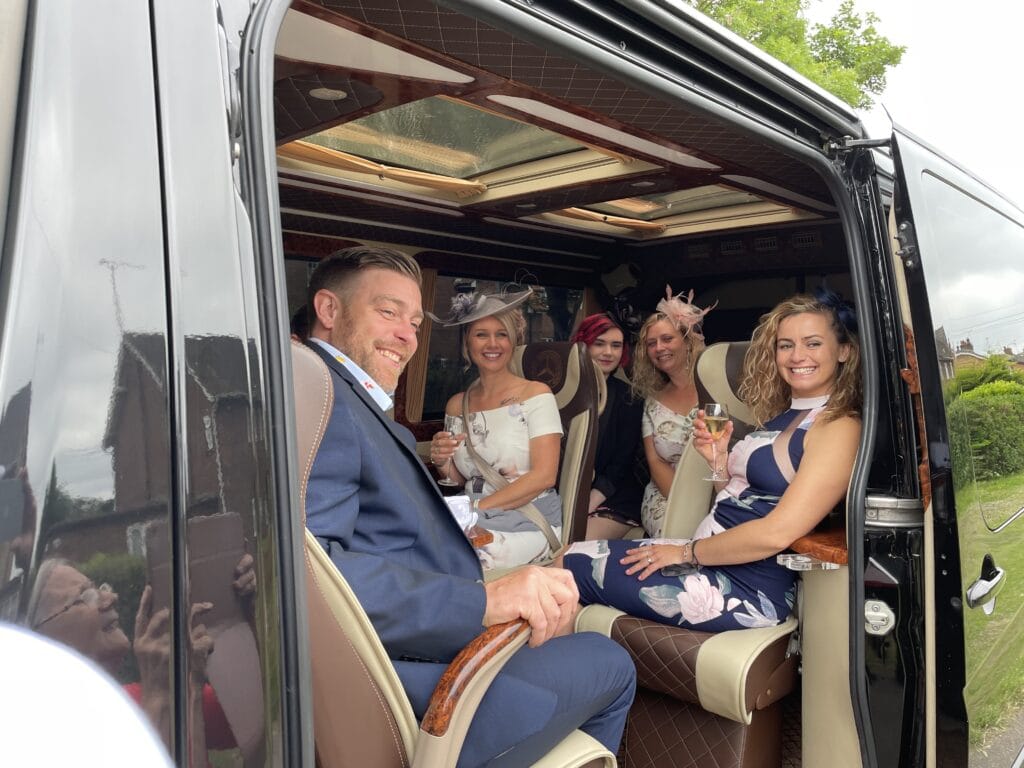 The journey ahead
So what's the journey ahead, be prepared to receive the finest white glove chauffeur services. Even a butler service on the VIP mini coach hires. A luxury chauffeur service that will effortlessly take you to your destination in the ultimate style, class and comfort.
So be prepared to enjoy the top brands and service. Relax in the finest nappa leather in vehicles that have been built around your well being. Enjoy massaging seats and the finest starlight systems, enjoy your choice of music or TV.
So relax knowing we have you covered, with umbrellas at hand and cosy blankets for night time journeys. Also, fridges stocked with chilled and sparkling water for your refreshment.
We look forward to welcoming you aboard the luxury mini coach and minibuses.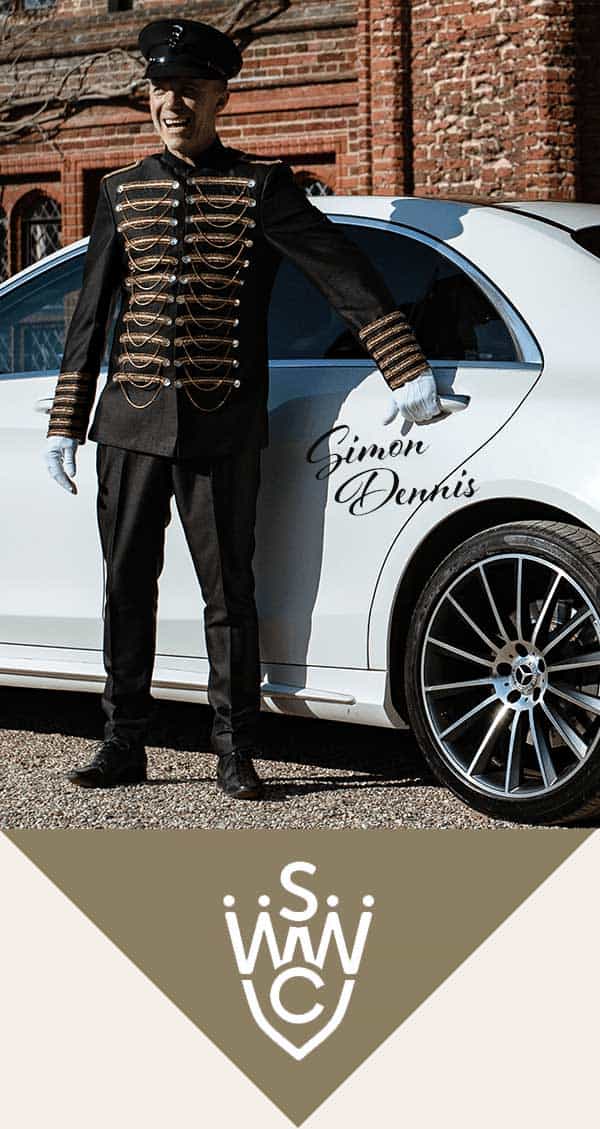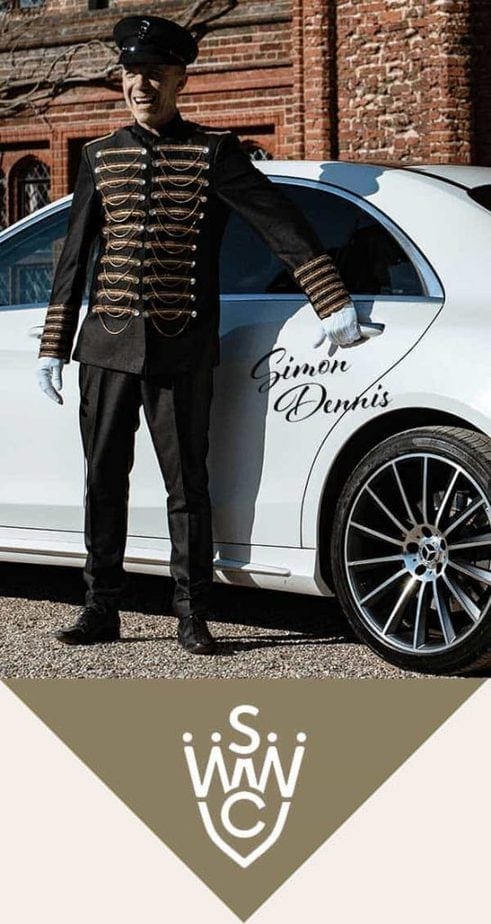 Choice of VIP vehicles to hire
A choice of VIP vehicles to hire. So at present you have a choice of 8 chauffeur driven vehicles for your travel needs. A range of the highest spec Mercedes S class limos providing the most luxurious transport for two people. Also the fantastic Mercedes Pullman providing the finest travel for up to six people. Our luxury chauffeur driven cars come with the VIP service as standard.
Also two VIP minibuses for hire, the fantastic Mercedes V class. This was also designed by us, to provide everything for your VIP travel needs. So, our first class cabin delivers the ultimate travel experience and comfort for up to 6 people.
So the Mercedes VIP Sprinter will carry up to eight passengers in its luxury first class cabin. Also providing ample space for all passengers and a large haul for luggage. The interior is like a private jet, we just love opening the door and seeing our clients reaction.
So, finally the much awaited VIP mini coach. This is no normal mini coach, this is not about cramming the most people you can on a mini coach. Luxury and comfort defines our company values, so this will deliver it all.
Hence, when we purchased this vehicle it had 20 seats fitted and your knees hit the seat in front for example. This is so far from the luxury first class travel we provide. So befitting to our luxury vehicles and service, this is being reduced to 13 seats. Also we will have tables between the seats, these will provide champagne chillers and flute holders.
Furthermore, also bottle holders for the chilled water or any other bottled beverage.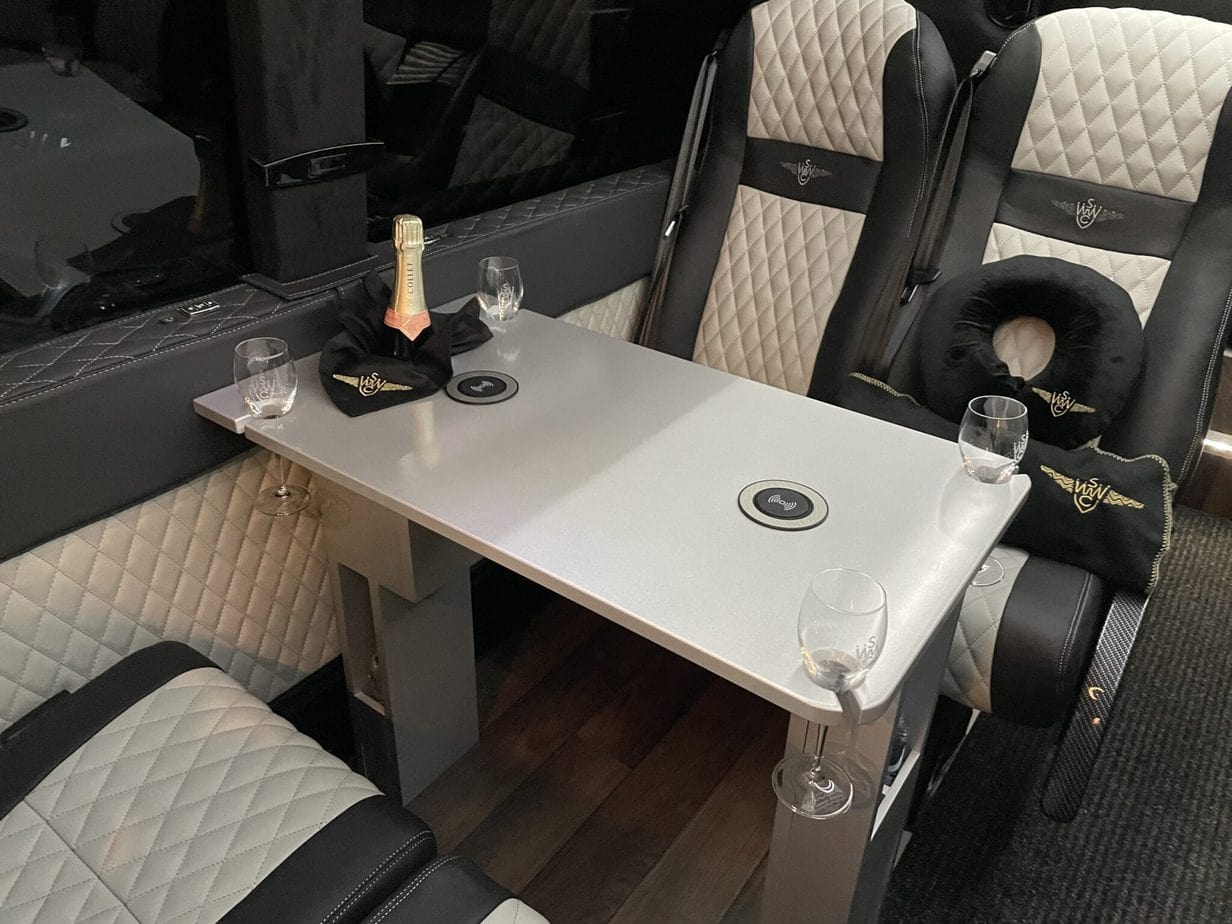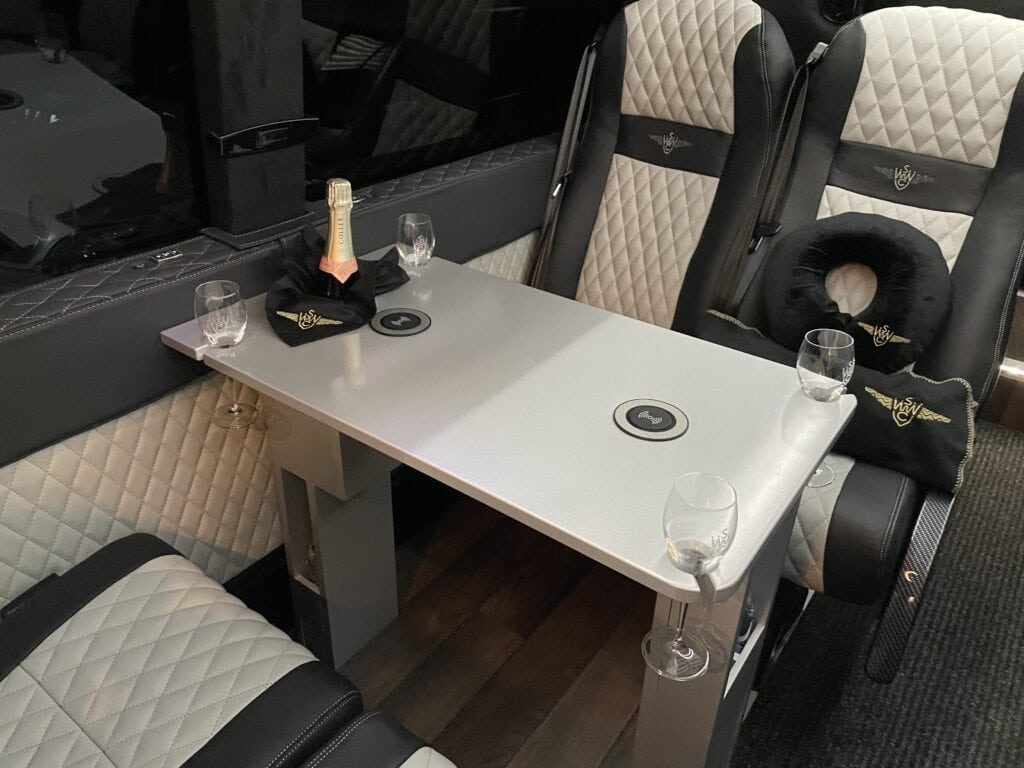 The VIP mini coach conversation
So the luxury mini coach conversation is under way, with it expected to be complete for hires to start from the beginning of 2022. £10,000 of the finest Nappa leather is to be used inside the cabin. Also at least 13 heated and massaging reclining seats for your comfort.
The finest sound and media system, complimented by starlight shooting star system. Also ambient lighting and mood lighting complete the luxury first class cabin. So two fridges will provide chilled drinks for your journey.
Hence this VIP mini coach will provide the ultimate comfort for any event or occasion. Maybe a trip to a horse racing event or a sports event. Hence, this vehicle is designed to deliver the experiences you require for a corporate event hire or party hire.
The only problem we envisage, is you will not want the epic mini coach hire to end.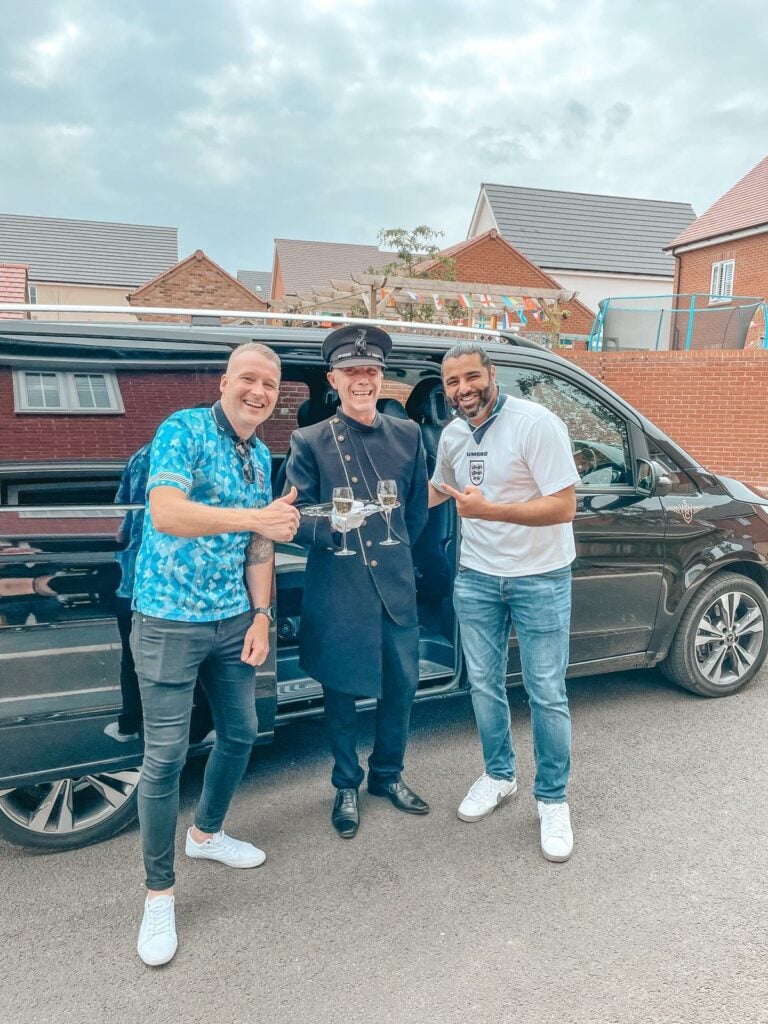 Booking your Luxury mini coach event hire
Booking your first class travel is easy with the on line booking system. Just select your date and pick up time, then enter your destination. So for most hires, it is more cost effective for us to wait for you, than to book a return journey. Unless your return journey is the following day or days away.
So just enter the number of hours between drop off time and pick up time for the journey back. If you require any help, then just contact us.
European travel, we do offer travel to Europe and have chauffeurs with years of experience in driving over the sea. So once again if you desire this service please email or call us.
Chauffeur service
So providing the finest chauffeur service experience is what we do. Chauffeurs are trained to deliver a luxury white glove service bespoke to your needs. Hence the attention to detail is paramount is our service.
Also this is why, we as a company have designed our VIP service. Although to provide such a luxury service, it was paramount that the detail started with us. This is why we have tailor made bespoke uniforms and even a choice of them, for you to choose. After all any one can wear an off the shelf suit and call it a uniform.
We wanted to show our commitment to our chauffeur services and the effort behind it to achieve this. Also, this makes our experienced chauffeurs easily identifiable to customers. Hence the white gloves and full bespoke uniform like no other luxury mini coach hire chauffeur company.
An airport transfer or example, really enhances this. So at arrivals there could be up to 30 chauffeurs and drivers waiting for clients, all dressed mainly the same. Then you see your white glove chauffeur in his full splendour, in his unique uniform. So easily identifiable, that he just stands out from the crowd.
Also the same is said of the luxury fleet, hence all have the private number plate ending 51MON and the company logo on the front wings and rear. So rest assured with our very personal and professional service, your never be confused who your chauffeur is or what vehicle is yours.
This same level of service is standard on your VIP mini coach hire.