VIP chauffeur service champagne welcome
VIP chauffeur services, providing a champagne welcome is standard on all our airport transfers. Furthermore, on bookings over £125 for our luxurious Mercedes S class limos, a complimentary bottle of branded champagne as standard. Also on bookings over £250 in the VIP minibus range, you receive 2 bottles of free branded champagne. This is just a small part of our VIP chauffeur service we supply as standard. This enhances the 1st class travel experience.
Additionally, on all bookings below the above values, we now include a Prosecco welcome for our luxury chauffeur driven services. So, whatever your luxury travel needs in Essex, Suffolk or London we have you covered.
Travel should always be enjoyed and not endured. Thus we go out our way to supply the finest chauffeur driven experience in the UK. Professional chauffeurs who care about your well being. We are dedicated to providing the ultimate first class travel experience. Ensuring a 1st class VIP chauffeur service for your luxury transport needs.
We drive to serve you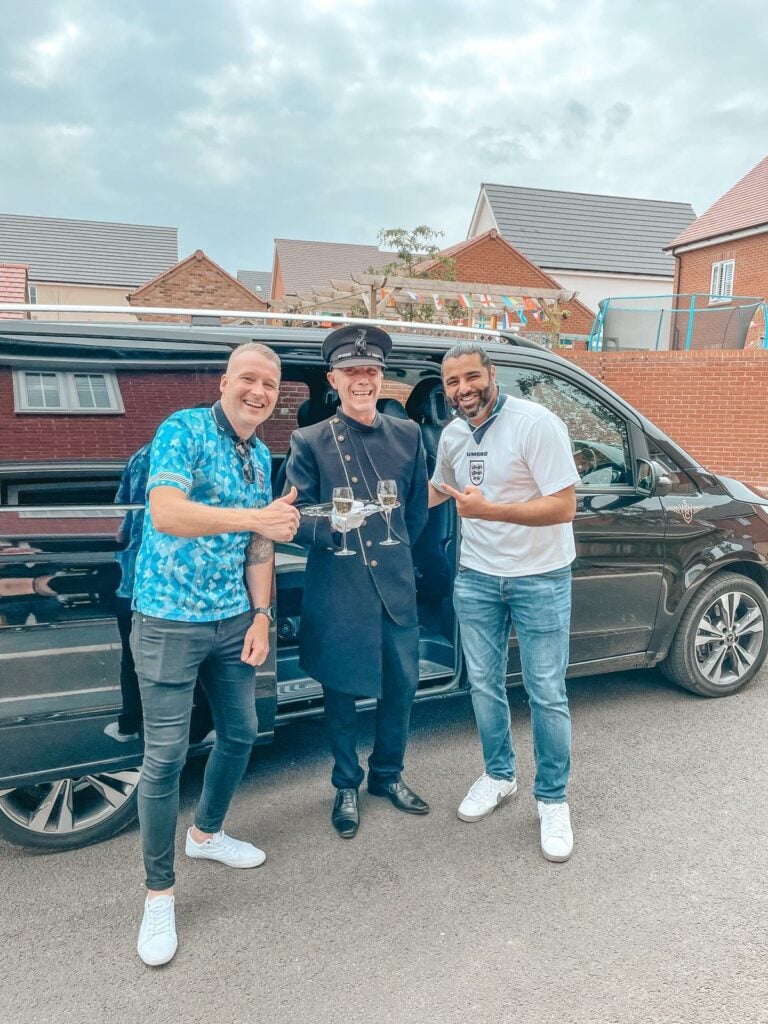 Champagne chauffeur service options
Also we provide upgrade options, we understand that every client has differing needs. So our champagne cellar has a choice of top brands to suit your tastes.
So choose from Bollinger, Moet or Veuve Clicquot to name a few. Furthermore we can bespoke our VIP chauffeur services to your 1st class travel needs. So, if you fancy a brand that we do not stock? Just contact us and we will arrange to supply some for you.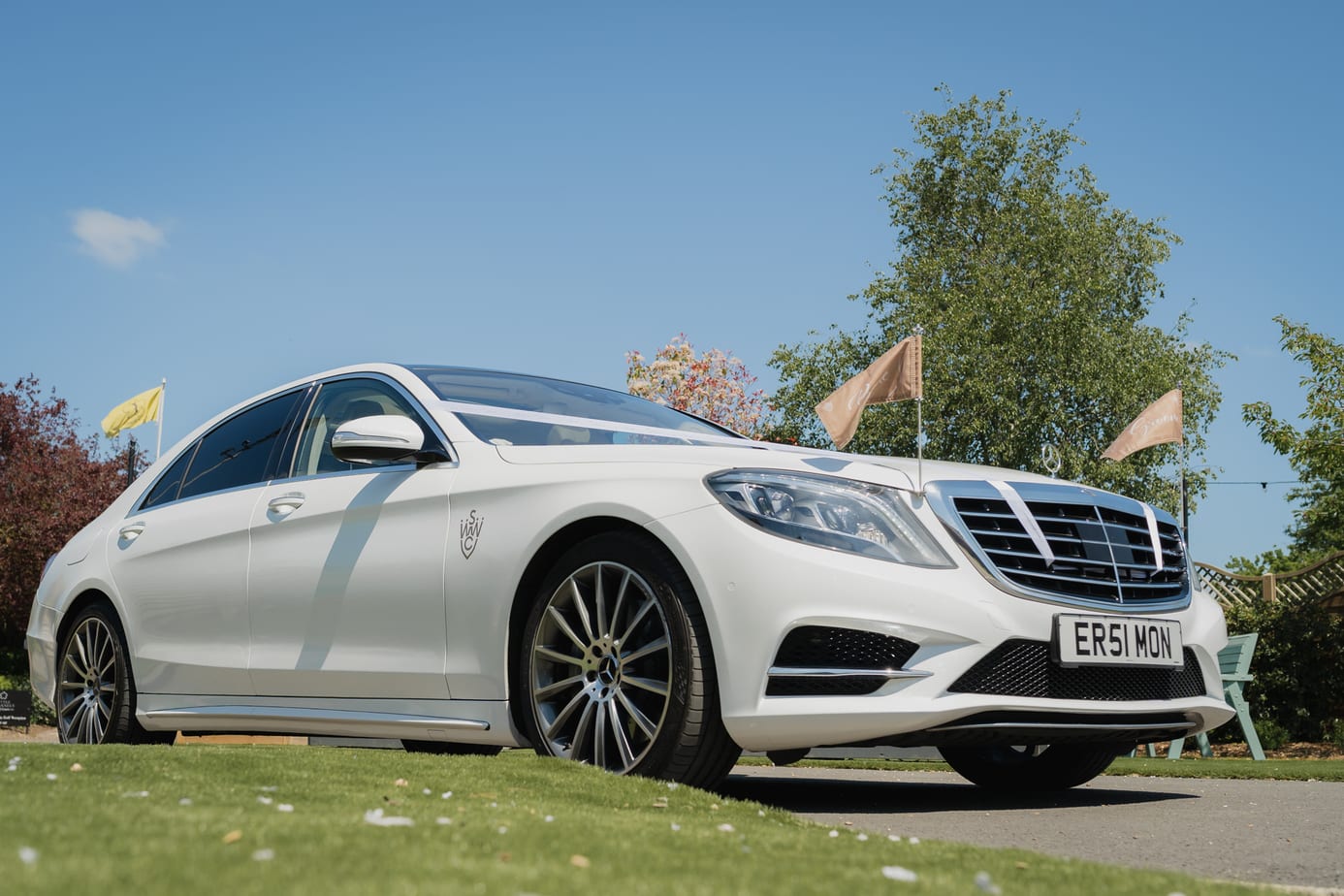 The chauffeur welcome
So, again we can bespoke how we supply the champagne welcome. Whether we knock on your door ready to serve the champagne. Maybe hide behind the VIP minibus to surprise someone for a special occasion. However you desire your VIP chauffeur services, we will make it happen.
Understanding that life is about making memories, we provide the 1st class travel experience that you will cherish. Furthermore, it's not just about the champagne. On a hot day we will also welcome you with cooling towels. There is nothing as refreshing on a hot day. On a rainy day, umbrellas are provided and brought to you. Your personal chauffeur will even escort you under an umbrella.
This is all part of our VIP chauffeur services. The attention to detail for your well being and that of your guests. Ensuring you receive the 1st class travel experience, which will be the highlight of your day.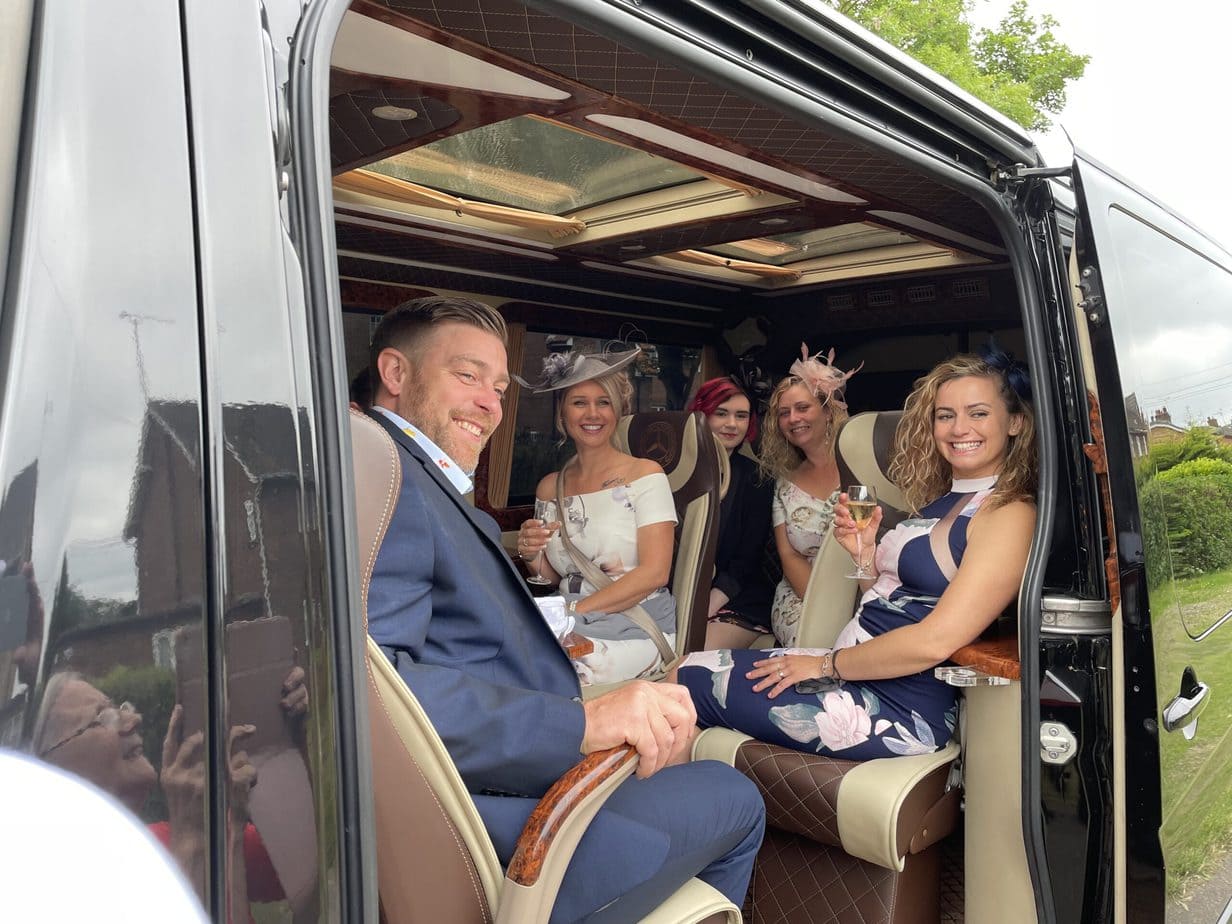 Choice of chauffeur driven vehicles
A choice of chauffeur driven vehicles befitting to any event. We supply luxury cars and minibuses for 2 -8 passengers at present.
So, these vehicles all have a 1st class cabin. So providing the necessary comforts for your VIP transportation. Champagne buckets, champagne flute holders and plenty of chilled water.
Luxury additions that we have had bespokely made to fit our vehicles for your convince. This is part of our dedication to provide the ultimate VIP transportation.
Massaging seats, heated and cooling seats on some models. Even on board fridges, TV and media screens. Mood lighting and party lighting, even a starlight roof.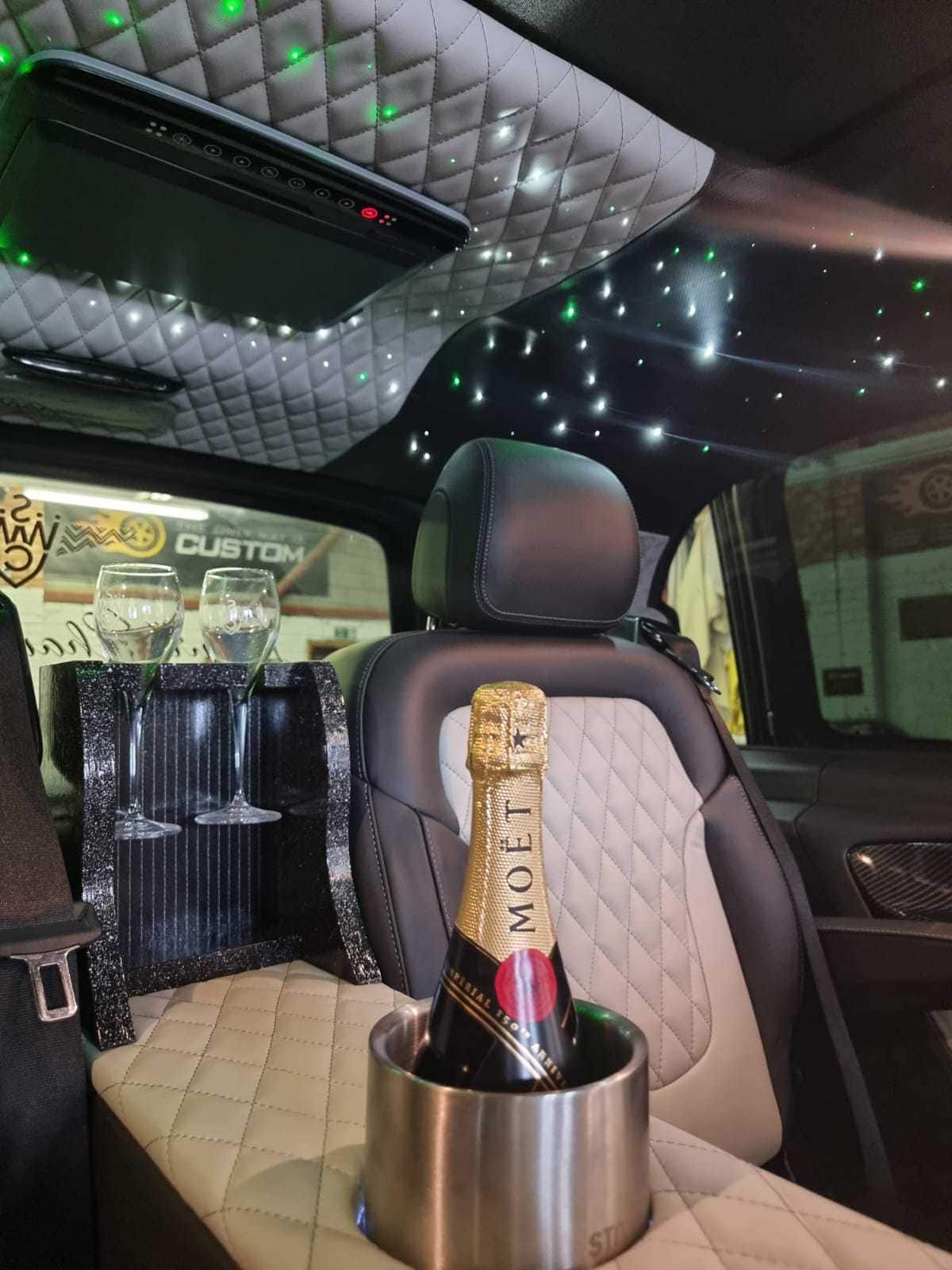 Chauffeured Mercedes S class limos
Providing a choice of 3 luxury Mercedes S class limos for hire. The Mercedes S class has been one of the world's favourite chauffeur driven cars for decades. Providing a 1st class cabin and a luxury ride on its air suspension it's easy to see why.
The S class is Mercedes top of the range flagship model. Thus designed to deliver the ultimate in passenger comfort and safety. This ensures it delivers the finest chauffeur driven travel experience.
Unlike the Mercedes E class or C class which some companies will call chauffeur driven vehicles. However these are private hire cars and are not build to the same level of luxury and comfort. So therefore they do not come anywhere close to the S class. Plus of course the S class is a lot bigger, providing the space needed for 1st class travel.
Unlike most chauffeur companies, we limit the passenger number to 2 in the rear compartment. Why? It's a luxury journey and vehicle, so cramping 3 people in the back just spoils the experience. After all this is a luxury VIP chauffeur service, its all about your comfort and experience.
Also, our bespokely made champagne holder is fitted in the middle.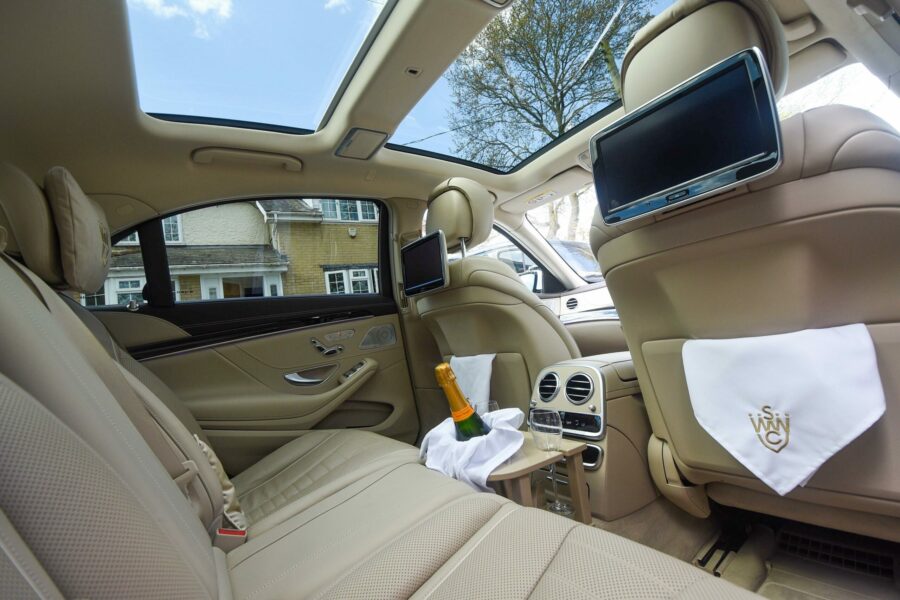 Mercedes Pullman
The travel of kings and queens, the rich, the famous and heads of state to name a few. The chauffeur driven Mercedes pullman is the grand entrance for sure. Whether driving a round London or Cambridge, it is always spotted and photographed.
This grand 6 door stretched Mercedes S class can carry up to 6 passengers or 4 with champagne drinks. So your own luxury climate control and music system, help enhance your comfort. This limousine really does deliver the VIP chauffeur experience.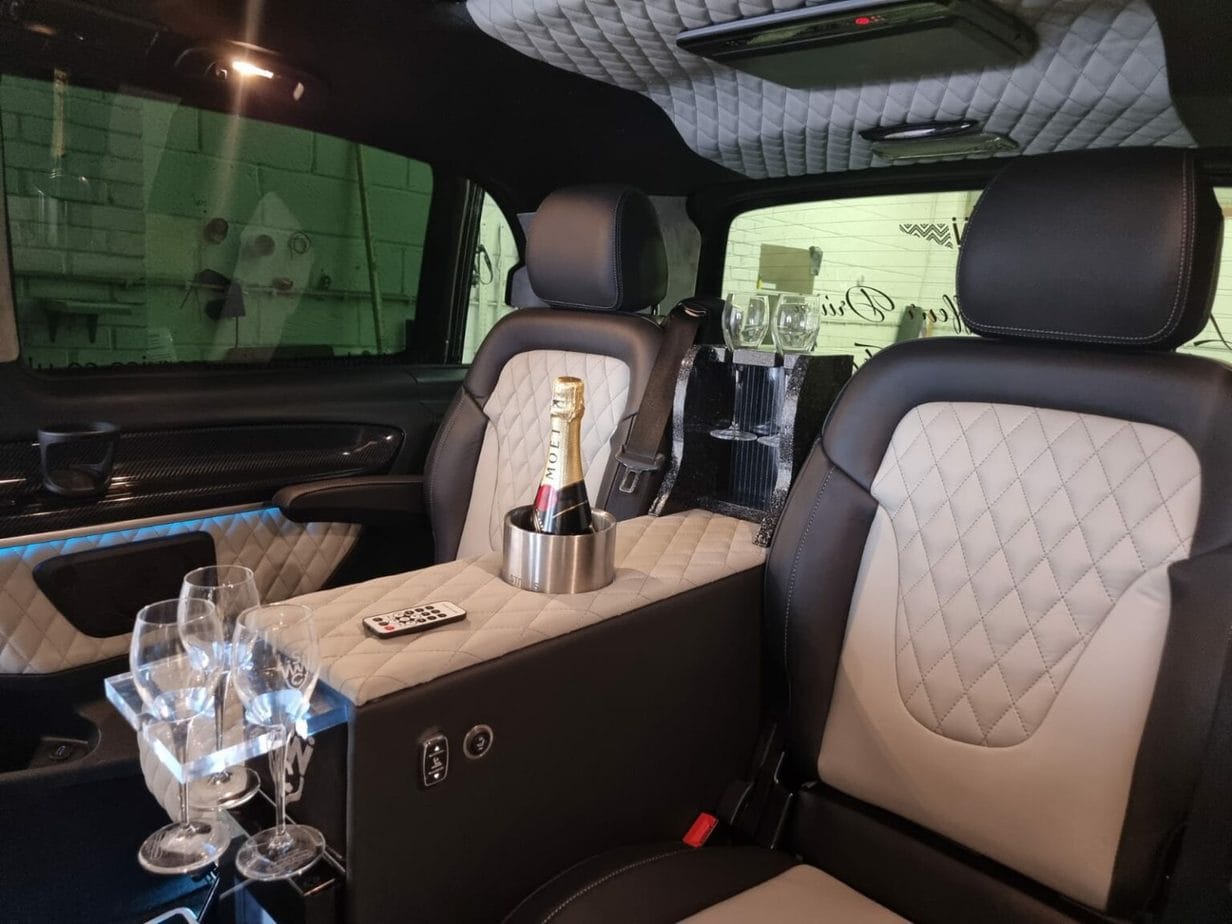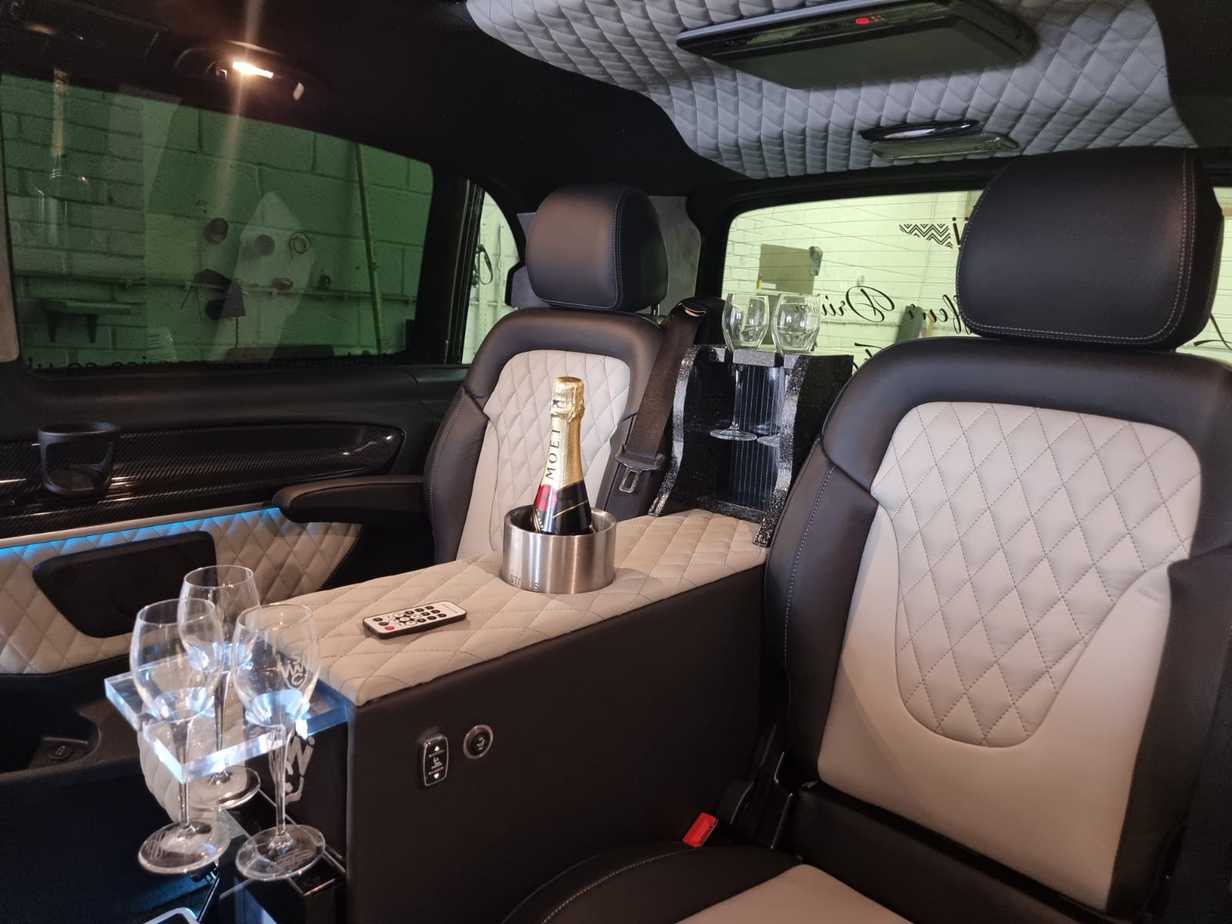 Minibuses to hire for your VIP chauffeur service
A choice of 2 minibuses to hire for your VIP chauffeur service experiences. A VIP Mercedes Sprinter providing seating for 8 passengers. Wow or OMG is the words we hear the most, as we open the side door and reveal the 1st class cabin. This is travelling in first class, champagne flute holders and a top hat bucket await you.
Also a bar with a fridge and chilled water placed around the first class cabin. Also available with a choice of drink packages for your needs.
Mood lighting, party lighting so it can fit in with your event. A media screen and music system also add to the VIP chauffeur service experience. This really is 1st class travel and not to be confused with a normal minibus hire.
New to our range and just back from its bespoke VIP conversation. The VIP Mercedes V class after a 6 week conversation. The V class takes your VIP chauffeur service experience to the ultimate level for personal or business use.
1st class travel at its best. Luxury Nappa leather seating with massaging and heating. Media how you need it, your in control. Just connect via bluetooth to play your favourite music or films.
Two media screens and a high premium sound system provide the ultimate entertainment system. Twin panoramic sun roof surround by a starlight roof adds to the comfort. Mood lighting completes the ultimate comfort cabin.
Furthermore it has its own fridge, champagne bucket and 5 champagne flute holders. This VIP V class was designed around your 1st class transportation needs. Thus providing the perfect VIP chauffeur service.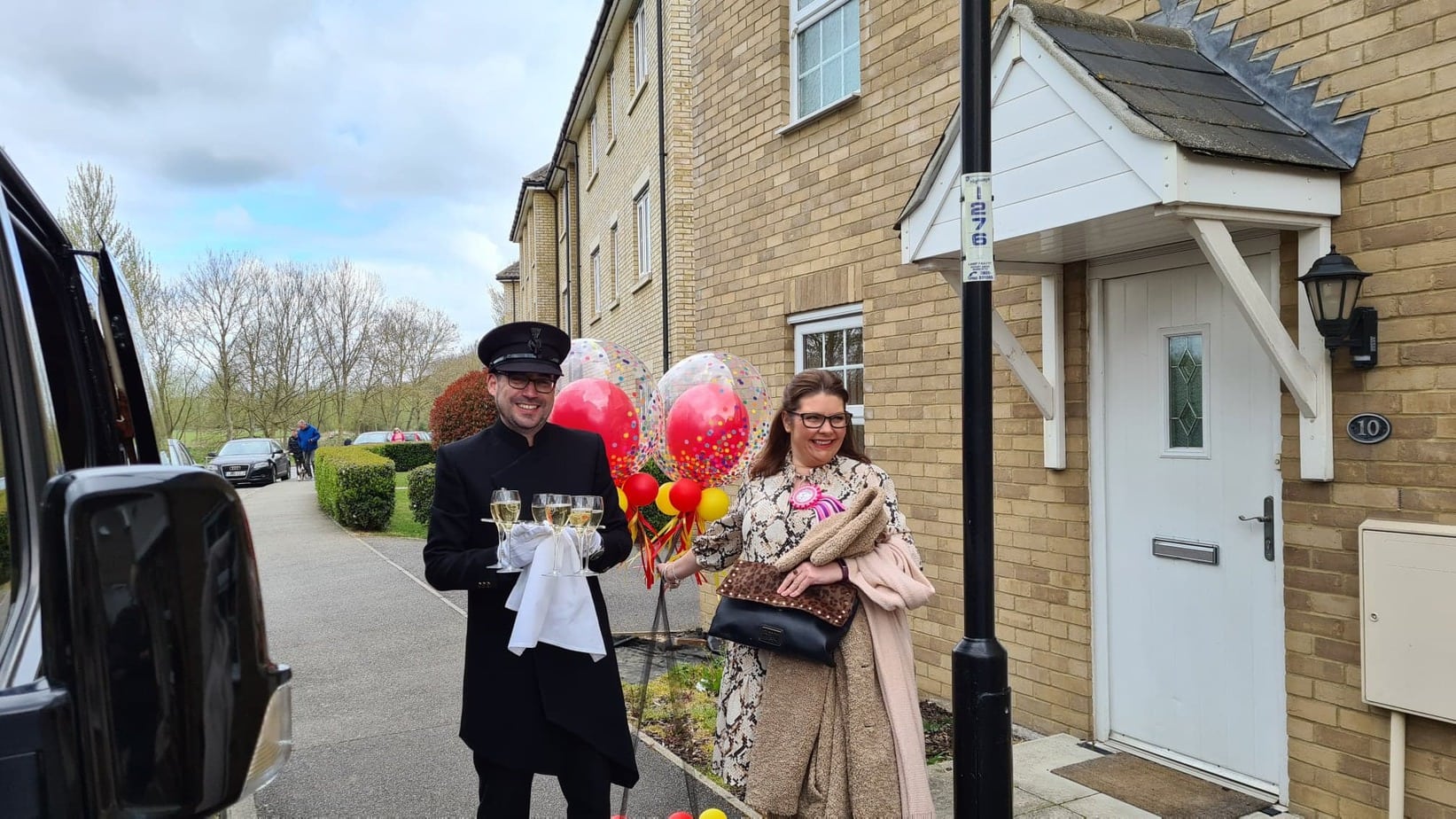 Booking your 1st class travel
Booking your perfect VIP chauffeur service is easy with our instant quote system. Which provides a quote for your chauffeuring needs in under 60 seconds. We also offer extras you can add to your booking. A full range of beverages, even flowers and personal flags for our Mercedes S class limos.