Our Wedding Car Hire
For anyone who is trying to attend a wedding event, one of the most important things you can do is get the right transport. Whether it is your wedding or a family or friends, you want to make sure you arrive in style and on time. And with our white glove chauffeur service, you can make sure that this is the case every single time you pick up the phone and give us a call.
As a white glove chauffeur service, we are proud to have helped many couples have the perfect wedding. With luxurious charm and satisfying grandeur, our S-Class Mercedes vehicles ensure that you arrive at your wedding ready to enjoy a deeply satisfying journey.
You have been on a huge journey together until now; why not make the literal trip to the rest of your lives the most comfortable that it can be?
With our help, then, that is about to become much easier. We provide classy, professional wedding car hire that can cover your every need and requirement. Simply contact us today with the time and venue of the wedding, and we can arrange luxury wedding car hire in Suffolk and Essex with ease.
Make your wedding planning easier than ever with our white glove chauffeur service
We know that planning a wedding can be a massive headache, and it is for easy for essential services to slip through the net. One of those services might just be the wedding car itself. If you worry that you don't have any means of getting to and from your wedding, you should look at our white glove chauffeur service as a solution!
We can make sure that you get all of the help that you need to making sure you arrive in some style. with champagne prepared for the exit journey, both of you can enjoy a nice sip to your exciting new future together right away.
We can also give you some awesome extras such dress shopping experiences, bespoke liveries and ribbons, and anything else that you feel must be included to make your wedding car hire just right.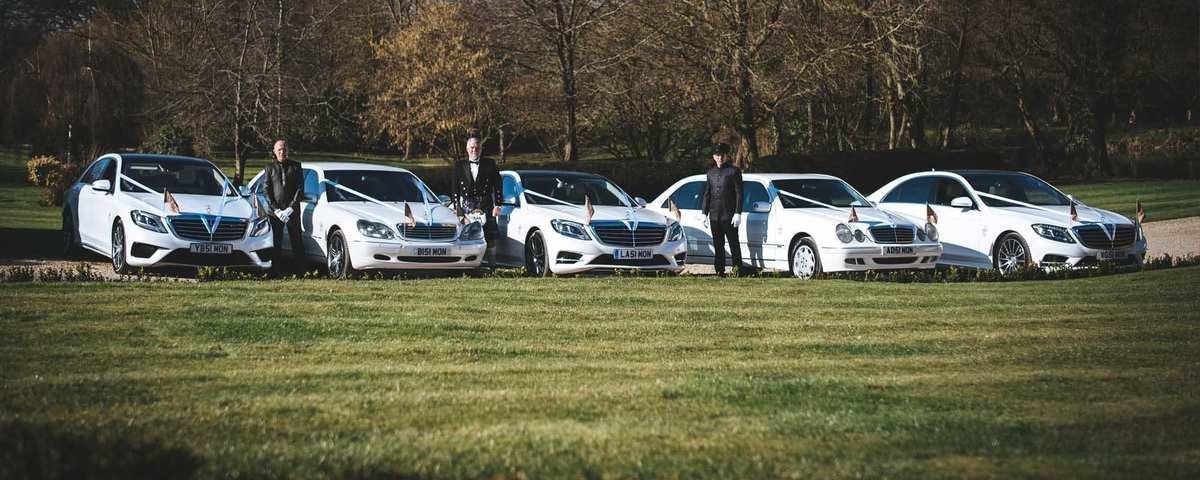 Bespoke wedding car hire tailored to your every need and requirement.
When you hire our white glove chauffeur service, you are hiring a company that is here to please. This means that no matter how ambitious your request might be, we will be more than happy to try and find a solution to it.
We will look at what you need to make a genuine impact at the wedding, what you require in terms of vehicle size, and the exact times that you need us for.
Punctuality is our perfection, so you can expect that we will be here in good time to help you arrange every aspect of your most special of days. For more help and information about using our wedding car hire service, contact the team today.
We can make sure that the biggest day of your life can arrive and depart without a single hitch. For thrilling white glove chauffeur services that live up to your dreams and expectations, contact us today.